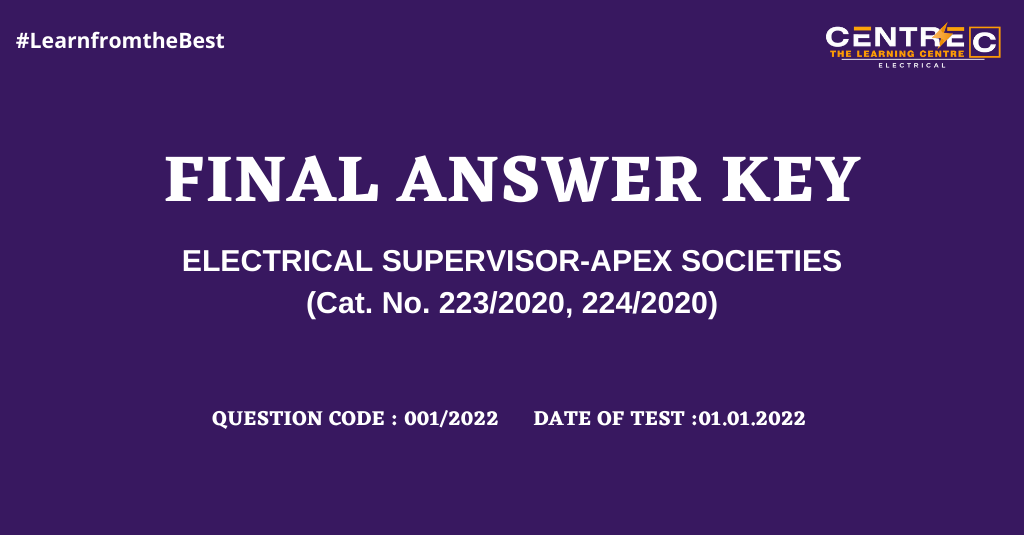 ELECTRICAL SUPERVISOR FINAL ANSWER KEY
ELECTRICAL SUPERVISOR FINAL ANSWER KEY PUBLISHED BY KERALA PSC
FINAL ANSWER KEY AND QUESTION PAPER OF 223/2020, 224/2020 – ELECTRICAL SUPERVISOR
Question Code: 001/2022
Date of Test: 01/01/2022
Question Paper Discussion,
For ELECTRICAL SUPERVISOR Question paper,
For OVERSEER GR. III / DRAFTSMAN GR III (LSGD) FINAL ANSWER KEY
Our Social media platforms are exclusively for Electrical Engineering students, job candidates, teachers and all those who have passion for Electrical Engineering.
You will get
Electrical engineering quiz
Regular job notifications
Exam notifications
E – News
E – Shots
Study tips
Electrical related discussion and all in this group.