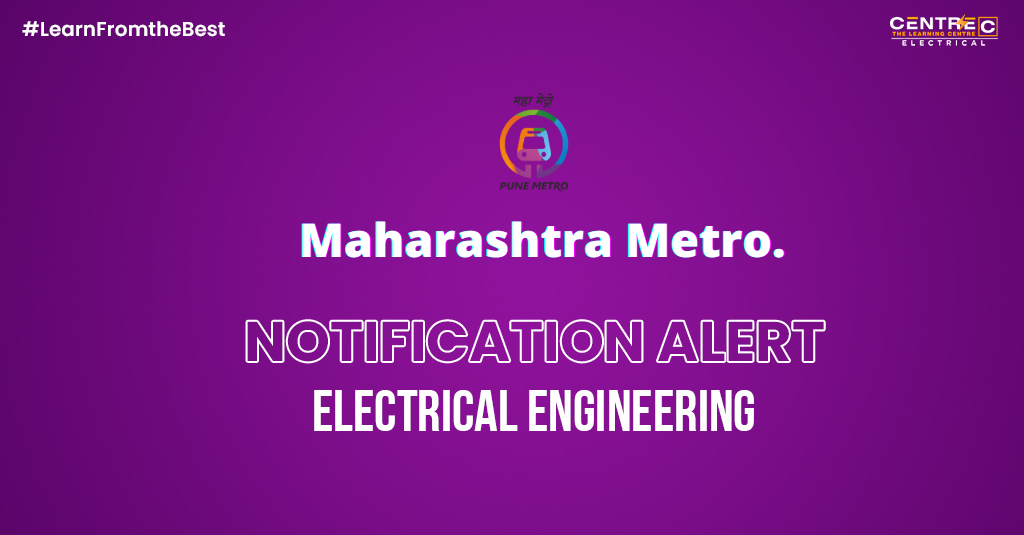 Additional Chief Project Manager – Maharashtra Metro
Maharashtra Metro Rail Corporation Limited (MAHA-METRO) is a Special Purpose Vehicle (SPV),a 50:50 jointly owned company of Government of India and Government of Maharashtra. The existing Nagpur Metro Rail Corporation Limited (NMRCL) which would be reconstituted into Maharashtra Metro Rail Corporation Limited (MAHA-METRO) for implementation of all metro projects including Pune Metro Rail Project Phase-1 in the State of Maharashtra outside Mumbai Metropolitan Region for the smooth implementation, execution and operations. Project will be covered under the legal framework of the Metro Railways (Construction of Works) Act, 1978; the Metro Railways (Operation and Maintenance) Act, 2002; and the Railways Act, 1989, as amended from time to time. MAHA METRO invites applications from the post of Additional Chief Project Manager from Electrical Engineering department.
Post
Vacancy
Additional Chief
Project Manager(Electrical)
01(UR)
Educational Qualification
| | |
| --- | --- |
| Educational Qualification | Age Limit |
| Full-time B.E. / B. Tech. in Electrical Engineering from a Govt. recognized University / Institute. | 53 |
Work Experience
Candidates should have experience in MEP system of Metro, Operation & Maintenance of Various Plant and Machineries, Erection of Lifts &
Escalators, E&M, General Services, Lighting of Stations, Installation, Testing & Commissioning of E&M, Earth-Mat & HVAC Design,
Drawing of Stations/Depots, Fire Fighting & Plumbing System of Stations/Depots, Power Generation and Distribution Network, Power Backup like Solar/Diesel Generation Set, etc.
Selection Process
The selection process will comprise of Personal Interview followed by Document Verification and Medical Examination as per the post's category.
The selection process would judge different facets of knowledge, skills, experience, expertise, aptitude, and physical fitness.
The candidates will be shortlisted for an interview, based on their eligibility / qualifications/ experience in the relevant field.
If sufficient candidates are not available for the advertised post, then candidates with lesser service length / higher age / lesser experience / relaxed qualification etc. may be considered for short-listing in the same post / appropriate lower grade post, and based on the performance during the interview.
Important Dates
| | |
| --- | --- |
| Online Application Will Start On | 01/03/2022 from 10:00:00 hrs |
| Closing Date for Online Application | 21/03/2022 from 18:00:00 hrs |
Medical Examination
The selected candidate will have to undergo medical fitness examination in Maha Metro's nominated hospital as per the prescribed medical category.
The details of medical standards can be seen on Maha Metro's website www.punemetrorail.org under the link CAREERS.
How to Apply ?
Candidates are required to apply online through Maha Metro's website only. No other means / mode of application will be accepted.
Candidates are required to have a valid personal Email ID and mobile number. They should be kept active during the entire period of this recruitment process.
In case a candidate does not have a valid personal email ID, he/she should create his/her new Email ID before applying online.
Under no circumstances, he/she should share/mention the Email ID and its login password to any other person. Also, the candidate should have a functional mobile number to complete the application process.
For Detailed Notification;
Electrical engineering quiz
Regular job notifications
Exam notifications
E – News
E – Shots
Study tips
Electrical related discussion and all in this group.