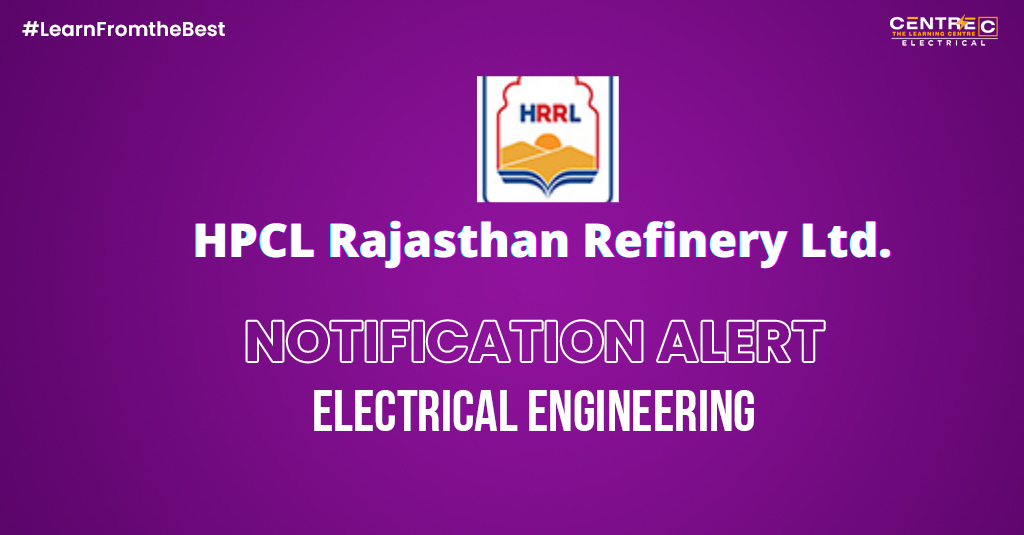 Electrical Engineer – HRRL
HPCL Rajasthan Refinery Ltd. (HRRL) is a Joint Venture between Hindustan Petroleum Corporation Limited (HPCL) and Government of Rajasthan (GOR). HRRL is setting up a Greenfield 9 MMTPA refinery cum petro chemical complex at Pachpadra in Barmer district of Rajasthan. HRRL invites proficient and motivated candidates from Electrical Engineering looking for exciting career opportunities to be a part of our growth journey. Interested and eligible candidates can apply for the following vacancies ONLINE.
| | |
| --- | --- |
| Post | Vacancy |
| Electrical Engineer | 02 |
Educational Qualification
Four-years full time regular engineering course in Electrical Engineering from AICTE approved / UGC recognized University/Deemed University with minimum 60% marks of all semesters/years for UR/OBCNC/EWS candidates and 50% for SC/ST/PwBD candidates.
Work Experience
| | |
| --- | --- |
| S/G E5 (₹80000-₹220000) | S/G E6 (₹90000-₹240000) |
| Mini. 12 years of work experience in Supervisory role/Executive category in the following | Mini. 15 years of work experience in Supervisory role//Executive category in the following |
Executive/Managerial Role at Project sites at Petroleum/ Refining/ Petrochemical/ Chemical/ Fertilizer /Steel/ Power / Infrastructure sector/ Defense/Automobile/Pharma/Railways/any relevant manufacturing sector or Project Service Providers like Project Management Consultants / LSTK Contractors related to the above sectors.
Experience in erection / installation, Testing & commissioning including troubleshooting of HT & LT power distribution system, equipment like HT/LT motors, substation equipment, start-up devices like VFDs, auto transformers, relay settings and relay coordination, GIS, earthling, technical evaluation of bids, review of vendor drawing & data.
Key Job Responsibilities:
 Carryout supervision/ design / drawing activities as per project plan, wherever required outside
LSTK scope.
 Prepare/review specifications for various supplies / jobs / equipment in coordination with
consultants.
 Prepare/review MTOs & prepare purchase requisitions for various jobs / supplies / equipment.
 Carryout technical review of bids including technical correspondence with vendors.
 Ensure compliance to codes, engineering standards and good engineering practices.
 Review vendor's fabrication drawings independently or in coordination with consultants.
 Carryout inspection at vendor's shops wherever required.
 Prepare MRRs for receipt of equipment / material.
 Prepare/review drawing like single line diagram, instrument schedules, cable schedules, loop
schematics, cable layouts etc. (as applicable) with consultants / HRRL dept.
 Coordinate between Process & Project dept. for identifying and locating tie points /hookups
wherever required.
 Maintain proper documentation / drawing records.
Important Dates
Commencement of online
application
24th February 2022
Last date of
online application
15th March 2022
Selection Process
Candidates fulfilling all eligibility criteria based on scrutiny of the application and resume submitted in the online application, will be considered for further selection process
Personal Interview. In the event of number of applications being large, the Company will adopt shortlisting criteria to restrict the number of candidates to be called for the interview.
The shortlisting criteria will be based on any or all of the criteria i.e. higher relevant experience, higher qualification etc.
The Shortlisting methodology will be hosted on the website www.hrrl.in prior to commencement of Selection Process.
Interview will comprise of both Technical and Behavioral.
A category wise merit list of scores will be drawn for all the candidates who qualify as per short listing criteria .
How to Apply?
Posting/ Assignment can be in any Division/Department of the HRRL at any place in the country and the services thereafter will be transferable as per the requirement. These positions may involve working in shift duties including night shifts. Selected candidates may also be posted / assigned outside HRRL in India or abroad.
Candidates are requested to apply online only.
Applications with incomplete / wrong particulars or not in the prescribed format will not be considered.
General Instructions
Only Indian Nationals need to apply.
Only Online Applications will be acceptable. Candidates are not required to send printout of application or any other documents in hard copy to HRRL..
All the details given in the online form will be treated as final and no changes will be entertained.
For Detailed Notification;
Electrical engineering quiz
Regular job notifications
Exam notifications
E – News
E – Shots
Study tips
Electrical related discussion and all in this group.