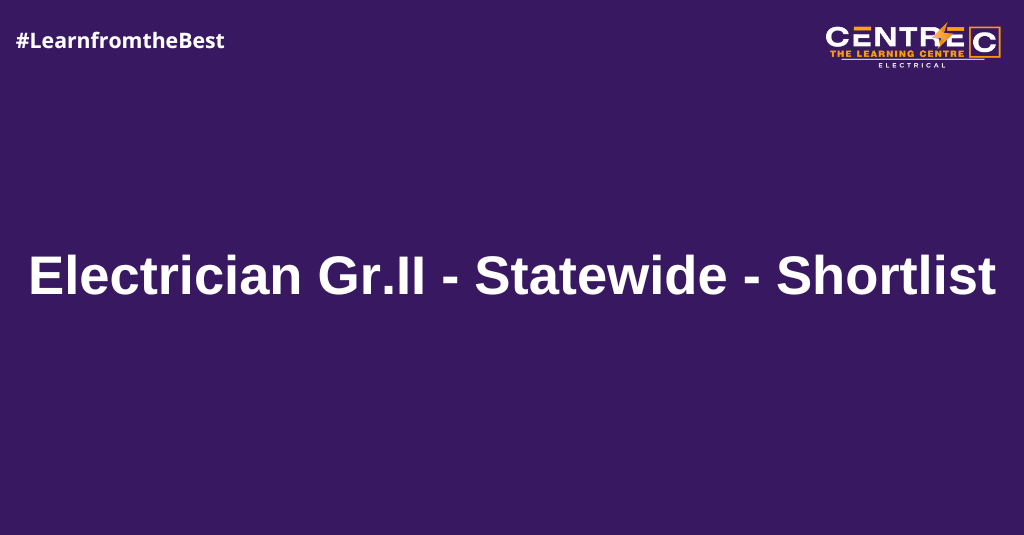 Electrician Gr.II – Statewide – Shortlist
Electrician Gr.II – Statewide – Shortlist
CENTRE-C ELECTRICAL
The following is the Probability List containing the Register Numbers of candidates who are found provisionally eligible to be included in the Ranked list, subject to the verification of the Original documents, for selection to the post of Electrician Gr.II – STATEWIDE (Category No. 084/2021 ) in Kerala Ceramics Limited on 3560-4935(PR) on the basis of the OMR Test held on 21-11-2021. The Register Numbers are arranged in their numerical sequence and the arrangement does not in any way, indicate their respective rank on the basis of the said test. The candidates whose numbers are included in Probability List are directed to be present for verification of original documents as and when called for.
Note:- (1) Inclusion of Register Numbers in this list is purely provisional subject to scrutiny and admission of application on absolute basis. Inclusion of Register numbers in the Probability List does not confer any right on the candidate for inclusion in the Ranked List.
Note:- (2) The list has been prepared by including the number of candidates who have secured top marks in the OMR Test.
Note :- (3) The candidates who have secured 78.33 ( seventy eight (point) three three ) marks and above are included in the Probability List .
Note:- (4) Candidates included in the Probability List should present and produce in person the original documents for One Time Verification. Date, time and Venue of OTR Verification will be published shortly.
Note:- (5) According to the existing procedure, revaluation of answer scripts is not allowed but answer scripts can be rechecked after the publication of Ranked List. Detailed instructions will be published in the Ranked List to be published for the post.
Note :- (6) Candidates included in the Probability List are required to produce Community Certificate for SC/ST candidates and Non Creamy Layer Certificate (As per GO(P) No. 81/09/SC/ST/DD dated 26/09/2009) for other reservation categories issued by revenue authority at the time of OTR Verification.
Note :- (7) Copy of answer scripts of the OMR Test held on 21-11-2021 will be issued to those candidates who, apply for the same remitting the prescribed fee after approval of the Ranked List. Candidates whose Register Numbers are invalidated are advised to refer to Notification No : ER IV (1) 423/2022/EW Dated 21.04.2022.
General Note :-
Note:- (1) Rule 10 a (ii) of Part II KS & SSR is applicable.
Note:- (2) Candidates who claim equivalent qualification instead of qualification mentioned in the notification shall produce the relevant Government Order to prove the equivalency at the time of verification, then only such qualification shall be treated as equivalent to the prescribed qualification concerned.
Note:- (3) If the caste of a candidate is wrongly mentioned in the SSLC book, the candidate should claim their original caste in the application and should produce the community certificate / Non – Creamy Layer Certificate issued from the revenue authority concerned along with the Gazette Notification of the same at the time of certificate verification.
Note:- (4) Appropriate disciplinary action, as per KPSC Rules of Procedure (1976) Rule 22, will be pursued against those candidates who give confirmation for writing examination by making false claims about qualification such as education, experience etc. regardless of whether they attend the examination or not.
🎓Prepare for upcoming exams with Centre C Electrical! 🎉😍
Our study plan for AEI, AE & Overseer exams is now at your fingertips📲
Make use of 3 day's free classes and follow our study plan to pace your preparations for upcoming exams.
For more details, visit CentreC App
Download CentreC App📲

Get prepared for all the Electrical Engineering exams with a single enrollment!😎
Specially structured to learn each subject from basic to advanced levels,
HIGHLIGHTS
✅ Recorded videos with Unlimited streaming
✅ 300+ hours of lectures
✅Comprehensive coverage of the latest syllabus, including Overseer Grade-I/KSEB Sub-Engineer
✅A highly trained and dedicated faculty team
✅ 150+ total tests
✅ Interactive quizzes
✅Onboard support and doubt clearance
✅Regular performance analysis and personal mentoring
Admissions Open…
1-year validity
Its your high time to choose the right decision!
For admissions call us at
📲 94 97 41 88 77
📲 94 97 41 88 66
Our Social media platforms are exclusively for Electrical Engineering students, job candidates, teachers and all those who have passion for Electrical Engineering.
You will get
Electrical engineering quiz
Regular job notifications
Exam notifications
E – News
E – Shots
Study tips
Electrical related discussion and all in this group.