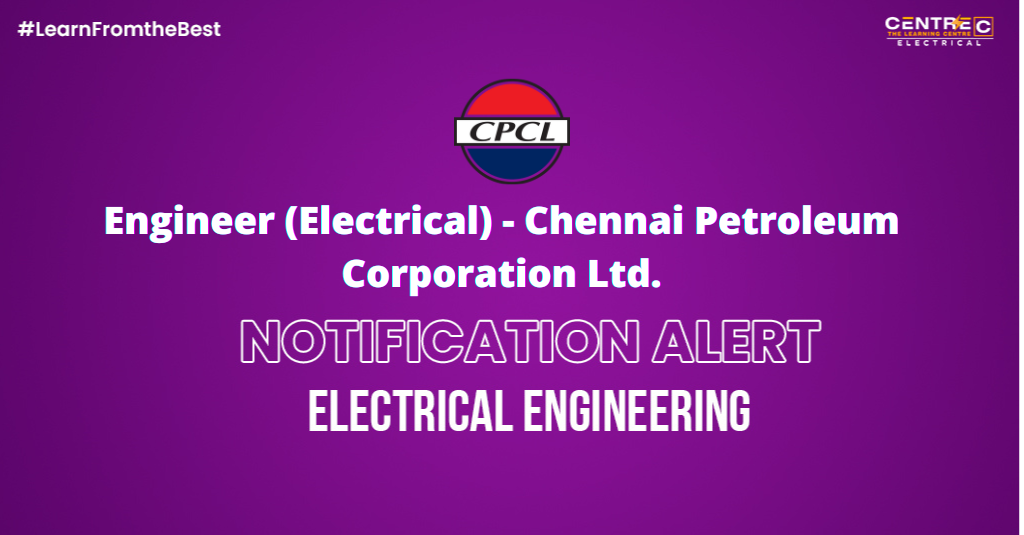 Engineer (Electrical) – Chennai Petroleum Corporation Ltd.
Engineer (Electrical) – Chennai Petroleum Corporation Ltd.
CENTRE-C: ELECTRICAL
Chennai Petroleum Corporation Limited (CPCL) is a leading profit making Public Sector Organization and a Group Company of Indian Oil Corporation Ltd., in the field of Hydro-carbon processing with a refining capacity of 10.5 MMTPA located in Chennai, Tamil Nadu. CPCL invites applications from young, self-motivated and energetic persons of Indian Nationality for the post of Electrical Engineer. The number of vacancies indicated are tentative which may increase or decrease in the relevant categories at the absolute discretion of the Management and in compliance with the Presidential Directives on reservation at the time of appointment.
Position
Code
Post
Vacancy
CPCL 03
Engineer (Electrical)
02
Upper Age Limit and Age Relaxation (as on 01.07.2022)
The Upper Age Limit for the above posts is 26 years.
Relaxation in The Upper Age Limit: Upper age limit will be relaxed as under:
Category
Relaxation in Age
Scheduled Caste (SC) / Scheduled Tribes (ST)
By 5 years, if considered against
reserved positions.
Other Backward Classes (Non – Creamy Layer
(OBC- NCL)
By 3 years, if considered against
reserved positions.
Persons with Benchmark Disabilities (PwBD)
By 10 years (GEN) (13 years for OBC &
15 years for SC/ST, if considered against
reserved positions)
Ex-Servicemen
By 5 years for those who have rendered
atleast 5 years military service and have
been released on completion of
assignment
Disabled Defense Personnel
By 3 years (GEN/OBC) & 8 years (SC/ST)
Candidates who had ordinarily been
domiciled in Kashmir Division of the State of
Jammu and Kashmir between 1st January
1980 and 31st December, 1989.
By 5 years
Educational Qualification and Experience (as on 01.07.2022)
Discipline
Qualification
Electrical
First Class Graduate Degree in Engineering / Technology in Electrical / Electrical
& Electronics with not less than 60% mark in aggregate of all semesters / years.
SC/ST/PwBD candidates need to score a minimum 55% against reserved
positions.
a) Minimum essential educational qualification(s) required shall be as indicated in the above Table against each post.
b) Candidates having qualifying degree from a discipline other than those above are not eligible to apply. The Corporation reserves the right to take a final decision in considering an Engineering discipline eligible in case different from those mentioned above.
c) All minimum essential qualification(s) must be from UGC recognized Indian University/ UGC recognized Indian Deemed University or AICTE approved courses from Autonomous Indian Institutions/concerned statutory council (wherever applicable).
d) Engineering Degree can be B.E./ B. Tech./ B. Sc. Engg. Candidates having 05 years B.E./ B. Tech. + M.E./ M. Tech. integrated dual degree in engineering in relevant discipline shall also be considered.
e) MBA/ PG Diploma in Management/ MMS qualifications where there is a mention of Dual specialization, one of the specializations necessarily needs to be function specific for which the post has been advertised.
f) Subjects in the required specialization should have been part of the examination cleared and mentioned in the final mark-sheet / degree certificate or the specialization should be certified by the concerned University / Institute, where in the candidate pursued his / her studies. In absence of the above, CPCL shall be at liberty to decide the specialization based on the courses opted by the candidates during their post-graduation study of the qualifying course. The candidates for Human Resource Management must have majority of the elective papers from Human Resource Management.
g) Minimum percentage of marks in the essential qualification(s) as indicated above shall be considered as per rules/ norms of the concerned Institute/ University. Wherever CGPA/ OGPA or letter grade in a Degree is awarded, equivalent percentage of marks should be indicated in the application as per norms adopted by University/ Institute. Where percentage of marks is not given by the institution or where no conversion formula is given by the institution to convert letter Grade i.e. CGPA/ DGPA etc. into percentage, the candidate shall have to submit a certificate from his/ her institution certifying to this effect. In such cases, the candidate shall convert the CGPA/ DGPA etc. into percentage by the following formula: CGPA etc. Obtained/ Total CGPA etc. * 100.
h) Calculation of Percentage: The percentage marks shall be arrived at by dividing the total marks obtained by the candidate in all the subjects in all the semester(s)/year(s) by aggregating maximum marks in all the subjects irrespective of honors / optional / additional optional subject, if any. The fraction of percentage so arrived will be ignored i.e. 59.99% will be treated as less than 60%.
Mode of Selection
The selection shall be made through Online Test (to be held tentatively in Chennai, Coimbatore, Hyderabad, Kochin, Delhi, Mumbai, Kolkata, Bangalore only) and Personal Interview of the short listed candidates for assessment of different facets of Knowledge, Skills, Attitude, Aptitude, etc.
The online test shall be for 120 marks of two parts viz., General Aptitude (Verbal Ability, G.K, Reasoning / Logical Deductions & Numerical Ability) comprising of 50 Questions and concerned discipline knowledge with 70 Questions. ¼ mark per wrong answer per question shall be deducted. The questions shall be objective type Multiple Choice Questions with total time duration of 2 hours. For Officer (Marketing), the discipline knowledge will be based on the essential education qualification viz. Electrical.
Final selection will be based on 85% of Written Test Marks and 15% of Interview Marks.
Candidate must secure minimum 40% marks in Written Test and Interview separately (35% for SC/ST/PwBD).
Pay and Emoluments
Candidates will be appointed in the IDA Pay Scale of 50,000-1,80,000 on a basic pay of 50,000/- (Rupees Fifty Thousand only) in Grade 'A' in Supervisory cadre, subject to medical fitness.
Besides Basic Pay, Industrial pattern of DA, HRA, Cafeteria, Conveyance Maintenance, Performance Related Pay (PRP), Contributory Provident Fund, Gratuity, LFA (lumpsum) / LTC, Reimbursement of Medical expenses for Self and dependents and other benefits including Superannuation benefits would be provided according to the rules of the Corporation. The Cost to Company, including PRP, works out to about `17 lakhs per annum.
General Rules/Instructions:
(i) A candidate is allowed to apply for ONLY one discipline/post. While applying for any post, the applicant should ensure that he / she fulfills the eligibility criteria and other norms mentioned, as on the specified dates and that the particulars furnished are correct in all respects. No enquiry asking for advice as to eligibility will be entertained.
(ii) Candidates are hereby informed that any Corrigendum/ Addendum etc. with regard to this advertisement will be made available on www.cpcl.co.in only. Candidates are advised to refer to the above website periodically for updates. All future correspondence with respect to the advertised posts will be made only through www.cpcl.co.in.
(iii) Candidates need not submit /send at any address, application printouts or any certificates or copies thereof at the time of online application. Their candidature will be considered on the strength of the information declared in the application. If at any stage, it is found that any information furnished in the online application is false/ incorrect or if according to CPCL, the candidate does not satisfy the eligibility criteria, his/ her candidature/ appointment is liable to be cancelled/ terminated.
(iv) All the educational qualifications mentioned should be from a University/ Institution/ Board recognised by Govt. of India/ approved by Govt. Regulatory Bodies. If grades are awarded instead of marks, candidates should clearly indicate its numerical equivalent (i.e. convert to percentage of marks).
(v) Candidates are advised in their own interest to apply online much before the closing date and not to wait till the last date for depositing the fee to avoid the possibility of disconnection/ inability/failure to log on to the website on account of heavy load on internet or website jam.
(vi) CPCL shall not entertain requests from the candidates seeking advice about their eligibility to apply.
(vii) Candidates will have to visit the same website for downloading Admit cards. Intimation for downloading admit card will also be sent through email/SMS. Once the candidate clicks the relevant link, he/she can access the window for admit card download. The candidate is required to use (i) Application Number/Roll Number, (ii) Password / Date of Birth for downloading the call letter. Candidate needs to affix recent recognizable photograph on the admit card preferably the same as provided during registration and appear at the examination centre with (i) Admit Card (ii) Photo Identity Proof as specified in the Admit Card and photocopy of the same Photo Identity Proof as brought in original. Admit cards will not be sent by post.
(viii) The candidates will have to appear for the test and for the document verification at their own cost.
(ix) SC / ST candidates called for Written Test / Interview will be reimbursed single Second Class Railway / Bus fare from the nearest railway station of the mailing address to the place of test / interview and back by the shortest route on production of ticket, provided the distance is not less than 30 kms. Reimbursement will be made subject to submission of TA claim along with original rail ticket / receipt or photocopy thereof or original bus tickets(s) and copy of Community Certificate. Reimbursement of travel claim will not be allowed, if Community Certificate is not produced and if the SC / ST candidate is found ineligible as per Press Advertisement criterion.
(x) CANDIDATES REPORTING LATE i.e. after the reporting time specified on the Admit Card for Examination will not be permitted to take the examination. The reporting time mentioned on the admit card is prior to the Start Time of the test. Though the duration of the examination is 2 hours, candidates may be required to be at the venue for about 1 hour including the time required for completion of various formalities such as verification and collection of various requisite documents, giving of instructions, etc.
(xi) Documents relating to Age/Qualification/Experience/Category etc. will have to be submitted at the time of document verification by the candidates who are called for Interview. Selection and Appointment of candidates is subject to verification of Caste / Character & Antecedents from authorities concerned. Caste certificate submitted by candidate seeking reservation as SC/ST/OBC/EWS in the prescribed proforma from the competent authority should clearly indicate the candidate's caste, the Act/Order under which the caste is recognised as SC/OBC/EWS and the village/town where the candidate is originally a resident.
(xii) Candidates seeking age relaxation are required to submit copies of necessary certificate(s) at the time of Interview.
(xiii) A declaration is required to be submitted in the prescribed format by candidate seeking reservation as OBC, that he/she does not belong to the creamy layer as on date of document verification, which is made available in the website. Candidates seeking reservation under EWS category are required to submit an Income and Asset certificate issued by Competent Authority prescribed under point no.5 of department of Personnel and Training's O.M No. 36039/1/2019-Estt.(Res) dated 31.01.2019 at the time of document verification.
(xiv) Candidates employed in Government organizations / Public sector undertakings / Autonomous Bodies owned by the Government, should forward their applications through proper channel. However, they may also produce the NO OBJECTION CERTIFICATE at the time of document verification if their applications were not routed through proper channel. If not possible, the candidate if selected must bring clear cut release order from his previous employer.
(xv) Any legal proceedings in respect of any matter of claim or dispute arising out of this advertisement and / or an application in response thereto can be instituted only in Chennai and courts/ tribunals/ forums at Chennai only shall have sole and exclusive jurisdiction to try any cause / dispute.
(xvi) Instances for providing incorrect information and /or process violation by a candidate detected at any stage of the selection process will lead to disqualification of the candidate from the selection process. If such instances go undetected during the current selection process but are detected subsequently, such disqualification will take place with retrospective effect.
(xvii) Canvassing in any form will be a disqualification.
(xviii) Candidates are required to possess a valid e-mail id and mobile no., which are to be entered in the application form, so that intimation regarding downloading of admit card for written test / document verification can be sent.
(xix) In case of any ambiguity / dispute arising on account of interpretation of versions of advertisement other than English advertised in Newspaper / Employment News, English version given in the web-site www.cpcl.co.in will prevail.
(xx) The possibility for occurrences of some problem in administration of the examination cannot be ruled out completely which may impact test delivery and /or result from being generated. In that event, every effort will be made to rectify the problem, which may include shifting the candidates to the other centres or to conduct of another examination if considered necessary. Decision of CPCL in this regard shall be final. Candidates not willing to accept such change shall lose his/her candidature for this exam.
(xxi) Candidate's admission to the test / document verification is strictly provisional. The mere fact that the call letter has been issued to the candidate does not imply that his candidature has been finally cleared by CPCL.
(xxii) Candidates are advised in their own interest not to bring any of the banned item including mobile phones/ pagers / smart watches / any other communication devices to the venue of the examination, as arrangement for safekeeping cannot be assured.
(xxiii) Candidates are not permitted to use or have in possession of calculators in examination premises.
(xxiv) The candidates will be finally selected subject to their being found medically fit. Candidates are advised to ensure that they are Medically Fit as per CPCL's Pre-Employment Medical Standards. Candidates are advised to go through the "Pre-Employment Medical Examination Guidelines' before they commence the application process. The guidelines are available on our website www.cpcl.co.in.
(xxv) Candidate will appear for the examination at an Examination Centre at his/ her own risks and expenses and the corporation will not be responsible for any injury or losses etc. of any nature.
(xxvi) The candidature of the applicant would be provisional and subject to subsequent verification of certificates/testimonials, experiences etc. At any stage of the selection process, if it is found that the candidate has furnished false or incorrect or incomplete information, the candidature/ appointment of the candidate will be cancelled.
(xxvii) Filling up of vacancies is solely at the discretion of the Management based on suitability of candidates and no claim will arise for appointment, if some of the vacancies are not filled due to unsuitability/insufficient number of candidates.
(xxviii) The decision of the management will be final and binding on all candidates on all matters relating to eligibility, acceptance or rejection of the applications, mode of selection and cancellation of the selection process, etc. No correspondence will be entertained in this regard. It is that mere fulfillment of qualification, experience and other eligibility requirements laid down, does not entail a candidate to be called for the written test / interview.
(xxix) For any clarifications, please email at cpcl@onlineregistration.org.
How to Apply ?
The candidates who are applying for this recruitment can use their current & active E-Mail ID & Mobile Number. Those who do not have an e-mail ID and Mobile No. should create an email ID and to have a Mobile Number.
Important Note 1:
Candidates should fill all the mandatory fields which are marked with red star mark (*).
New User:
i) Candidate needs to select the Post in "Applying for Post" drop down and provide basic personal information during new user signup process. Candidate also needs to validate his or her Mobile No. via OTP process. Candidate must enter his E-Mail ID twice to confirm that candidate is entering a correct e-mail id.
ii) After providing the mandatory field details, candidate needs to click the "SUBMIT" button in the 'new user sign up' form.
iii) On successful submission, User ID & Password will be created and displayed to the user on screen, the User ID along with password will be sent to the candidate's E-Mail ID and Mobile No. The candidate should enter his/her User ID and password in the login page and click the login button to complete the login process. On first successful login, Candidate must change their password.
iv) After that, an instruction page will appear. After reading the instructions thoroughly, the candidate needs to give "DECLARATION" by selecting the checkbox shown in the screen. Then click the "CONTINUE" button to proceed further.
v) Now, the Application form for the Post selected will appear on the screen.
Application Form Consists of the following Sections:
i) Personal Details
ii) Educational Qualification
iii) Work Experience
iv) Upload Photo
v) Upload Signature
vi) Upload Documents
vii) Preview
viii) Declaration
ix) Payment section
x) Downloading of application forms
Personal Details:
i) In the personal details page, candidate should enter his/her Nativity and Gender. Upon selecting the Gender, a confirmation box will pop up. Click OK to confirm the candidate's gender. The candidate should fill his/her Permanent Address and Communication Address in the respective fields.
ii) If the candidate clicks "Yes" against the question "Do you possess community certificate issued by Tamil Nadu Govt.?", then the community list will appear in the Community drop down box. Here the candidate has to select his /her community.
iii) If he/she clicks "No" against the question "Do you possess community certificate issued by Tamil Nadu Govt.?" then OC will appear in the Community field by default.
iv) The candidate should fill his/her Nationality and Religion details.
v) Once all the mandatory fields of the 'Personal Details page' are entered, click the "Save & Continue" button to proceed further and to fill the "EDUCATIONAL QULIFICATION".
Educational Qualification:
i) Here the candidate should fill his/her educational qualification details in the table provided and Qualification Category under which candidate is applying.
ii) Then click "SAVE & CONTINUE" button and then "WORK EXPERIENCE" tab will appear on the screen.
Work Experience:
i) Here the candidate should fill his/her Work Experience details in the table provided and period of experience under which candidate is applying.
ii) Then click "SAVE & CONTINUE" button and then "UPLOAD PHOTO" tab will appear on the screen.
Upload Photo:
i) Here, his/her User ID, Name, Gender and DOB will appear automatically on the screen.
ii) The candidate should upload his / her scanned image of recently taken passport size photograph (allowed size 20 kb to 60 kb; allowed format JPG, JPEG).
iii) Then the candidate should click the "CHOOSE FILE" button and upload the photograph.
iv) After uploading the photo, the candidate should click the "CONTINUE" button. Then the "UPLOAD SIGNATURE" section will appear.
Upload Signature:
i) Here, his/her User ID, Name, Gender and DOB will appear automatically on the screen.
ii) The candidate should upload his / her scanned signature image (allowed size 10 kb to 30 kb; allowed format JPG, JPEG, or PNG).
iii) Then the candidate should click the "CHOOSE FILE" button and upload the signature.
iv) After uploading the signature, the candidate should click the "CONTINUE" button. After completing all the process, "Upload Document" section will appear.
Uploading Documents:
i) Here, his/her User ID, Name, Gender and DOB will appear automatically on the screen.
ii) The candidate should upload his / her scanned documents / certificates in PDF.
iii) Then the candidate should click the "CHOOSE FILE" button and upload the documents / certificates. (allowed size 60 KB to not more than 1MB; allowed format PDF)
iv) After uploading the certificates, the candidate should click the "CONTINUE" button. After completing all the process, "Preview" section will appear.
Preview:
i) In this section, all the details filled in the application form will be displayed in a single page with "Edit" options for the respective sections. If the candidate wants to edit his/her application, he / she can click the "Edit" link against the particular section and 'modify or update' the details.
ii) Now the Application Form will be displayed in a single page with "PROCEED TO SUBMIT FORM" button at the end.
iii) On clicking the "SUBMIT APPLICATION FORM" button, the "Declaration" pop up box will open. After enabling the checkbox, Click "SUBMIT" button to complete the application process.
iv) Once the "SUBMIT" button was clicked, the candidate will not be able to change any of the details in the submitted application.
v) Finally, the page moves to the payment section.
Payment Section (Via Payment Gateway):
i) A page mentioning the post applied and the amount of Fee will appear on the screen. On clicking the "Proceed to Pay" button, system will be redirected to the Payment Gateway page. In the redirected page, Candidate has to select the payment mode to initiate the payment.
ii) Please Note all the SC/ ST & EWS Community & Women Candidates/Differently Abled/Ex-serviceman (Irrespective of Community is exempted from payment of application fee.
iii) In the Payment Gateway page, the following payment mode options are available
a) Net banking b) Credit Card c) Debit card d) Branch Payment
The candidate is allowed to Pay the Fee through Online/Offline (Net banking /Debit card/Credit Card/ Branch Payment)
iv) If the transaction gets failed after initiating the payment process for unknown reasons, the candidate can initiate payment transaction again.
v) After successfully paid the payment through internet, candidate can check the details of the payment in the home page. Then they can download the application form and payment receipt.
vi) Refund and Cancellation policy. Any request for cancellations or refund for fees paid on the website shall not be entertained under any circumstances. However, if the amount is debited more than once due to technical issues, excess amount will be refunded within the TAT as specified by banks.
Downloading of Application Form:
The candidate needs to click the "APPLICATION FORM" link in the candidate's dashboard to download the filled-in application form.
Declaration:
i) I have fully read and understood the notification / advertisement and instructions for online application of Direct Recruitment for the Post before filling the application form and I hereby accept all the rules and norms prescribed for the same.

ii) After thoroughly reading and understanding the above instructions, candidate has to click on the Check box and click on Continue button to move to detailed Application Form.
Important Dates:
| | |
| --- | --- |
| Opening of online application | 24.08.2022 |
| Closing of online application | 21.09.2022 |
For Detailed Notification:
Get prepared for all the Electrical Engineering exams with a single enrollment!😎
Specially structured to learn each subject from basic to advanced levels,
HIGHLIGHTS
✅ Recorded videos with Unlimited streaming
✅ 300+ hours of lectures
✅Comprehensive coverage of the latest syllabus, including Overseer Grade-I/KSEB Sub-Engineer
✅A highly trained and dedicated faculty team
✅ 150+ total tests
✅ Interactive quizzes
✅Onboard support and doubt clearance
✅Regular performance analysis and personal mentoring
Admissions Open…
1-year validity
Its your high time to choose the right decision!
For admissions call us at
📲 94 97 41 88 77
📲 94 97 41 88 66
Our Social media platforms are exclusively for Electrical Engineering students, job candidates, teachers and all those who have passion for Electrical Engineering.
You will get
Electrical engineering quiz
Regular job notifications
Exam notifications
E – News
E – Shots
Study tips
Electrical related discussion and all in this group.