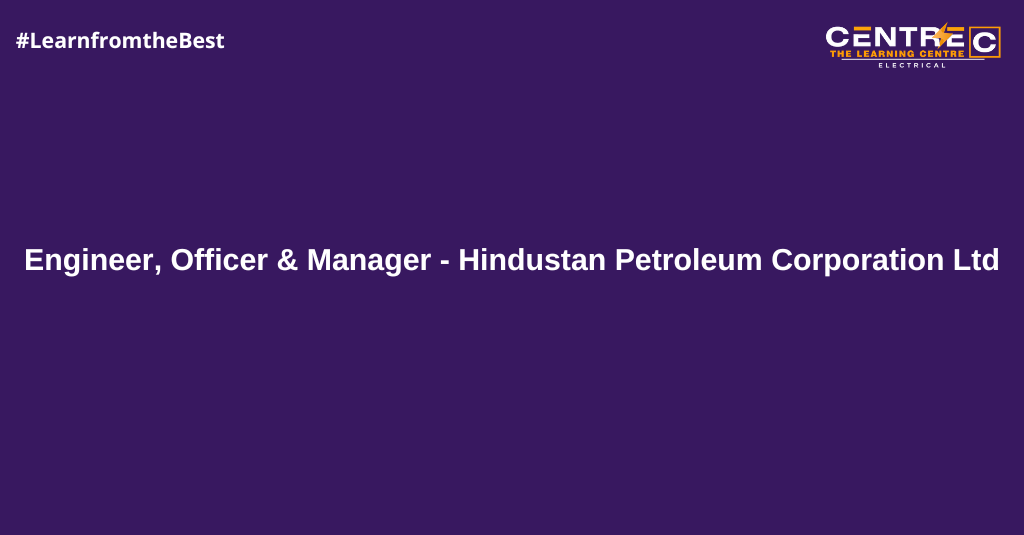 Engineer, Officer & Manager – Hindustan Petroleum Corporation Ltd
Engineer, Officer & Manager – Hindustan Petroleum Corporation Ltd
CENTRE-C ELECTRICAL
Hindustan Petroleum Corporation Limited (HPCL) was formed on July 15, 1974. HPCL is a Maharatna Central Public Sector Enterprise (CPSE) and a S&P Platts Top 250 Global Energy Company with a ranking of 26 with Annual Gross sales of Rs.372,642 Crore during FY 2021-22. HPCL has the second largest petroleum product pipeline network in India with network length of 3,775 km. HPCL undertakes Exploration & Production (E&P) of hydrocarbons through its wholly owned subsidiary M/s. Prize Petroleum Company Limited (PPCL). HPCL also conducts business through 19 JV and Subsidiary companies operating across oil & gas value chain. HPCL enjoys near 18% market share in India and has a strong presence in Refining & Marketing of petroleum products in the country. During 2021-22, HPCL recorded Profit after Tax (PAT) of Rs. 6,383 Crore. HPCL invites talented & motivated candidates looking for exciting career opportunities in energy sector and willing to contribute towards India's energy future by being part of our growth journey. Interested and eligible candidates from Electrical & Electronics Engineering can apply for the following vacancies ONLINE.
Post
Vacancy
Age Limit
Qualification
Electrical Engineer
42
25 Years
4-years full time regular engineering
course in Electrical Engineering
Safety Officer – Kerala
5
27 Years
a) 4-years full time regular engineering
degree in Electrical
AND
b) A degree or diploma in industrial safety recognized
by the concerned State Government(of Kerala)
for the purpose of appointment as Safety Officer
as per their respective state factory rules
AND
c) Candidate must possess adequate
knowledge of Malayalam
.
Manager/ Sr.Manager
Electrical
3
34/37 Years
4 -years full time regular engineering
course in Electrical Engineering
Work Experience
Electrical engineer (S/G – C/D)
Depending on the suitability for position, candidates may be inducted in salary grade "C" OR "D".
Experience:
a) Relevant experience in repair / maintenance / troubleshooting of HT and LT power distribution systems, substation equipment, HT/LT motors, startup devices like VFDs, auto transformers, relay settings and relay coordination, GIS, earthing, lighting, area classifications, flameproof equipment CPP generation, statutory / safety requirements etc.
b) Well conversant with relevant electrical codes / OISD guidelines / other statutory safety requirements / guidelines.
c) Relevant Experience of project execution including making specifications, understanding design aspects, review offers, review technical drawings/documents, construction supervision, pre-commissioning checks, commissioning, trouble shooting, coordination with OEMs etc.
d) Relevant Experience of working with major consultants for handling medium and large scale projects.
Note: The relevant experience has to be in the Supervisor/Executive/Managerial role only. Candidates with other than those above mentioned experience will not be considered.
Roles & Responsibilities:
a) Assess job scope, prepare cost estimate and functional specifications for switch gears, cables, motors, transformers, air conditioners etc. and supervise field maintenance jobs and carry out Root Cause Analysis.
b) Load flow analysis, relay co-ordination, transient analysis in ETAP.
c) Design/review of electrical system for new projects and develop protection logic.
d) Preparation of Single Line diagrams of various substations.
e) Study the project plans, field conditions and the construction drawings develop /manage job contracts, co-ordinate/supervise construction activities at project site.
f)Monitor site activities including installation, commissioning & testing of electrical equipment, cable laying etc.
g) Review/preparation of site Quality Assurance Plans and Quality checks as per QAP, engineering drawings, codes, standards and good engineering practices.
h) Carry out job hazard analysis and ensure compliance to safety requirements.
i) Coordinate with internal/external agencies executing the jobs, project management consultants etc. and provide assistance for pre commissioning /commissioning of constructed facilities and troubleshooting of the same including coordination with OEMs.
SHORTLISTING & SELECTION PROCESS
a. The selection process may comprise of various shortlisting and selection tools like Computer Based Test, Group Task, Personal Interview, Moot court (only for Law Officers) etc.
b. All the candidates claiming to fulfil all the eligibility criteria will be called for Computer Based Test.
c. Computer Based Test will be of objective questions with no negative marking and will comprise of two parts.
I. General Aptitude consisting of English Language, Quantitative Aptitude Test & Intellectual Potential test (Logical Reasoning and Data Interpretation).
II. Technical / Professional Knowledge comprising of questions related to Qualifying degree / Educational background required for the applied position.
d. Candidates qualifying in the Computer Based Test in order of merit & predetermined ratio will be advised to upload the supporting documents for certain positions.
e. Basis scrutiny of the application, uploaded documents (if applicable) and category-wise and discipline wise merit list in Computer Based Test, eligible candidates will be called for Group Task & Personal Interview.
f. Candidates must secure minimum qualifying marks in each of the stages i.e. Computer Based Test, Group Task and Personal Interview to be considered for further selection process.
g. A category & discipline-wise merit list will be drawn for all the candidates who qualify in all the stages. Computer Based Test + Group Task + Moot Court (only for Law Officers) + Personal Interviews + Work Experience (only for QC/Blending /Law/Experienced Electrical) & offer of appointment would be as per the category & discipline-wise vacancies available.
Note: The details related to syllabus for Computer Based Test, Shortlisting methodology (if applicable), weightage for Selection process will be uploaded on our website prior to commencement of selection process.
GENERAL INSTRUCTIONS
a. Only Indian Nationals are eligible to apply.
b. All computations of age/relevant experience requirement/qualification shall be done with respect to the last date of receipt of online application i.e. 22nd July 2022.
c. Queries can be emailed at careers@hpcl.in keeping the subject of the mail formatted as "Position Name – Application Number".
d. All the qualifications should be full time regular course/s from AICTE approved / UGC recognized University/Deemed University. The courses offered by Autonomous Institutions should be equivalent to the relevant courses approved / recognized by Association of Indian Universities (AIU/UGC/AICTE)
e. Wherever CGPA/OGPA or letter grade in a qualifying degree is awarded, equivalent percentage of marks should be indicated in the application form as per norms adopted by University/Institute. Please also obtain a certificate to this effect from University / Institute which shall be required at the time of interview
f. Admit Card for Computer Based Test, Group Task and/or Interview Call Letters etc. will not be sent to candidates in hard copy. Candidates will be required to download the same from HPCL website.
g. The total number of vacancies and the reserved vacancies is provisional and may increase/decrease at the discretion of the Corporation basis actual requirements. HPCL reserves the right not to fill any or all of the above posts advertised at any stage of selection.
h. All the candidates are requested to remain updated at each step of the selection process by visiting our website www.hindustanpetroleum.com. Candidates may please note that personal calls and/or interaction with any of the HPCL's officials during recruitment drive is discouraged, except when absolutely necessary/critical.
i. HPCL will not be responsible for any loss/non-delivery of email or any other communication sent, due to invalid/wrong email id or contact number.
j. HPCL reserves the right to cancel or add any examination / Personal Interview centre depending on the response in that area/ centre.
k. The Corporation also reserves the right to cancel / restrict/ curtail/ enlarge the recruitment process and/or the selection process thereunder without any further notice and without assigning any reasons.
l. Candidates are advised to submit only one application. In case of multiple applications from a candidate, the latest one shall be considered as final and the older applications shall be rejected without any notice.
m. Candidates presently employed in Government Departments / PSU's / Autonomous Bodies owned by the Government, should submit their application through proper process. They must produce No Objection Certificate in original hard copy at the time of Group Task and Personal Interview, failing which they will not be allowed to appear for the Group Task and Personal Interview process and their candidature will not be entertained.
n. Candidates (except final year degree students) must be in possession of all applicable Degree Certificates and mark sheets at the time of application and ensure that they fulfil all eligibility criteria. For the positions where experience is mandatory, the relevant work experience will be counted post completion of qualifying degree as per advertisement.
o. All applicants must fulfil the essential requirements of the post and other conditions stipulated in the advertisement. They are advised to satisfy themselves before applying. No enquiry asking for advice as to eligibility will be entertained.
p. Candidates are advised in their own interest to apply online much before the closing date and not to wait till the last date for depositing the fee to avoid the possibility of disconnection/ inability / failure to log on to the website on account of heavy load on internet or website jam.
q. Reimbursement of 2nd class rail fare for Computer Based Test for SC, ST & PwBD candidates and 3rd AC for all candidates appearing in the Interview by the shortest route is admissible for outstation, provided the distance travelled is not less than 30 km. Candidates opting for examination Centre other than the Centre nearest from mailing address will not be reimbursed travel fare. The candidates will be required to fill in the Travel Allowance (TA) Form as detailed on HPCL website and submit/upload it along with Travel Proof for travel undertaken. Travel allowance will
be processed through online mode. This reimbursement is not applicable to candidates who are already in Central/State Government Services/PSUs.
r. In case of any ambiguity or dispute arises on account of interpretation in versions other than English, the English version will prevail.
Furnishing of wrong/false information will lead to disqualification and HPCL will not be responsible for any of the consequences of furnishing such wrong/false information. Since all the applications will be screened without documentary evidence, the candidates must satisfy themselves of the suitability for the position to which they are applying. If at any stage during the recruitment and selection process, it is found that the candidates have furnished false or wrong information or is found ineligible with respect to any of the eligibility parameters, his/her candidature will be rejected. If any of the above discrepancies w.r.t. to eligibility parameters, furnishing of wrong intimation and or suppressing of any material fact is detected / noticed even after appointment, his/her services will be liable for termination without any further notice. Canvassing in any form during any stage of recruitment process will lead to cancellation of candidature. Court of jurisdiction for any dispute will be at Mumbai. The general public is hereby informed that all applications are accepted through our online portal only and is not outsourced by HPCL to any agency/individual. Applicants are advised to beware such fraudulent agencies. Any further corrigendum / addendum would be uploaded only on our website www.hindustanpetroleum.com
APPLICATION PROCESS
a. Online Application will be accepted from 1200 hrs on 23rd June 2022 till 2359 hrs on 22nd July 2022
b. Candidates are requested to apply online only on www.hindustanpetroleum.com Careers → Current Openings, after reading detailed advertisement. No other mean / mode of the application shall be accepted.
c. Applications with incomplete / wrong particulars or not in the prescribed format will not be considered.
d. The email id and mobile number provided in online application should remain valid for at least one year. Candidates must use proper e-mail ids created in their names. Applications with pseudo / fake email ids will attract appropriate action under the law.
e. All the details given in the online form will be treated as final and no changes will be entertained.
f. In the event of non-submission of completed application along with application fees (wherever applicable) from candidates for reasons whatsoever, his / her candidature will stand cancelled and no further communication/consideration on the same will be entertained.
g. Candidates will be required to submit documentary evidence of eligibility during the shortlisting/selection process within stipulated time as advised by HPCL. Any mismatch in name, qualification, other criteria's of documents from the data given in application form will lead to disqualification at any stage.
Important Dates
| | |
| --- | --- |
| Commencement of online application: | 23rd June 2022 |
| Last date of online application: | 22nd July 2022 |
For Detailed Notification;
Get prepared for all the Electrical Engineering exams with a single enrollment!😎
Specially structured to learn each subject from basic to advanced levels,
HIGHLIGHTS
✅ Recorded videos with Unlimited streaming
✅ 300+ hours of lectures
✅Comprehensive coverage of the latest syllabus, including Overseer Grade-I/KSEB Sub-Engineer
✅A highly trained and dedicated faculty team
✅ 150+ total tests
✅ Interactive quizzes
✅Onboard support and doubt clearance
✅Regular performance analysis and personal mentoring
Admissions Open…
1-year validity
Its your high time to choose the right decision!
For admissions call us at
📲 94 97 41 88 77
📲 94 97 41 88 66
Our Social media platforms are exclusively for Electrical Engineering students, job candidates, teachers and all those who have passion for Electrical Engineering.
You will get
Electrical engineering quiz
Regular job notifications
Exam notifications
E – News
E – Shots
Study tips
Electrical related discussion and all in this group.