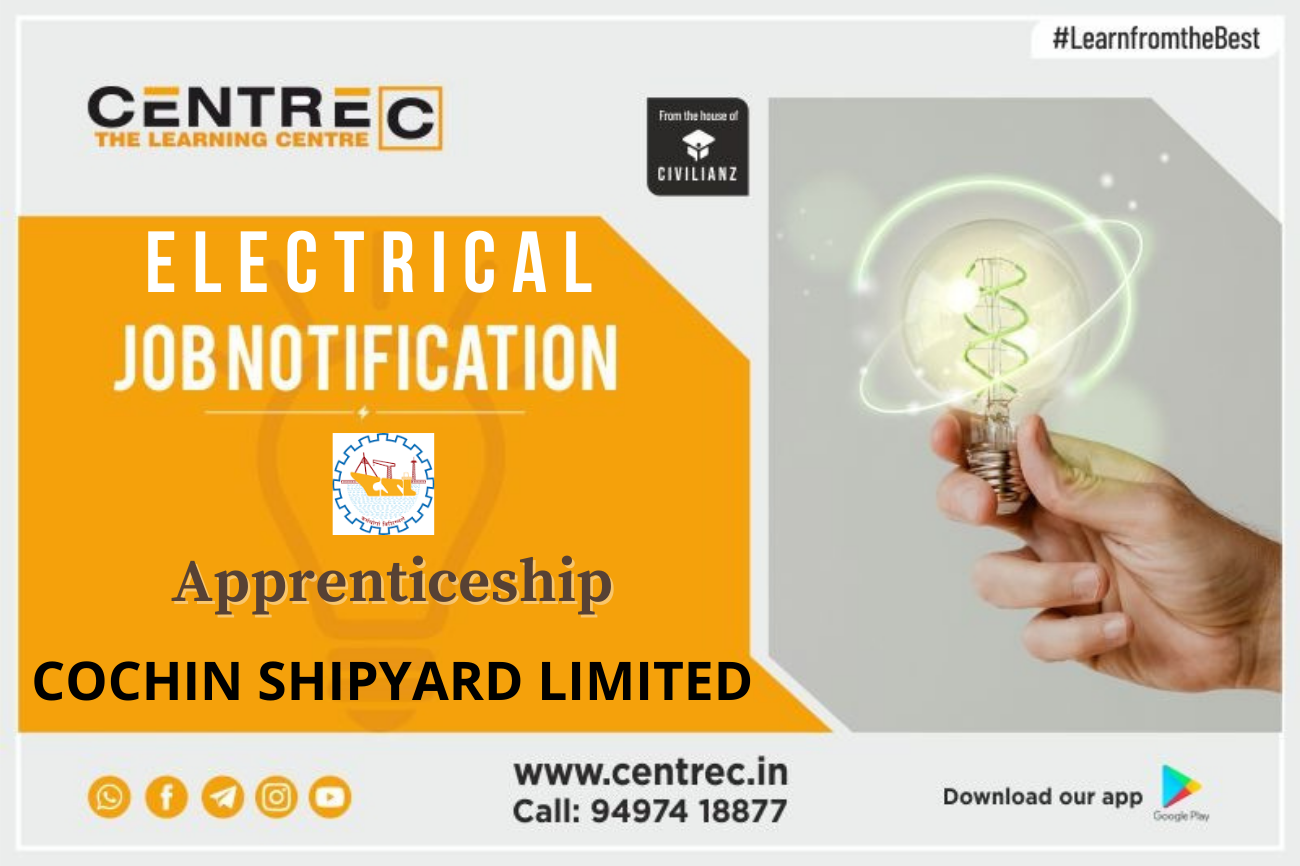 Graduate/Technician Apprentices – Cochin Shipyard Limited
Cochin Shipyard Limited (CSL), a listed premier Mini Ratna Company of Govt. of India, invites Online application from eligible Graduate/Diploma holders in Engineering and Diploma holders in Commercial Practice, for undergoing one year Apprenticeship training under the Apprenticeship (Amendment) Act 1973.
| Category | Discipline | No. of Seats |
| --- | --- | --- |
| Graduate Apprentice | Electrical Engineering | 12 |
| Technician Apprentice | Electrical Engineering | 15 |
Minimum Educational Qualification & Stipend

| Category | Educational Qualification | Stipend |
| --- | --- | --- |
| Graduate Apprentice | Degree in Engineering or Technology | 12,000/- |
| Technician Apprentice | Diploma in Engineering or technology | 10,200/- |
Selection Procedure:
A. Only candidates who are domicile of Kerala shall be considered. Short-listing of candidates for selection will be done based on the percentage of marks obtained in the basic prescribed qualification as applicable to the respective disciplines. In case, same percentage of marks is secured by more than one candidate in prescribed qualification, relative merit shall be decided based on seniority in age.
B. Candidates short-listed for the certificate verification prior to selection should bring the original certificates towards proof of age, qualification, caste, disability (if any) etc. and self attested copies of all these certificates, for verification and their candidature shall be considered on the strength of the original certificates. In case of failure to produce the original certificates, the candidature shall be rejected.
C. Those candidates who successfully complete certificate verification shall be provisionally considered for selection against the notified seats in the order of merit/reservation, subject to Medical fitness.
Registration & Submission of Application:
A. Candidates are first required to register in the web portal of NATS (National Apprenticeship Training Scheme) using the link given below for enrollment/registration as apprentices.
B. After completing enrollment/registration as Apprentices, the candidates have to apply online through NATS portal against seats notified by CSL (ID No./Registration Number of COCHIN SHIPYARD LIMITED in NATS Portal is SKLERC000007).
C. In case of any issues/queries related to NATS portal, you may please contact Board of Apprenticeship Training (BOAT), Southern Region, Chennai, as the NATS portal is instituted by BOAT. The contact details of BOAT, Southern Region are available in the
website.
Important Dates:
| | |
| --- | --- |
| Commencement of Online Application | 23.02.2022 |
| Last Date of Online Application | 09.03.2022 |
Electrical engineering quiz
Regular job notifications
Exam notifications
E – News
E – Shots
Study tips
Electrical related discussion and all in this group.