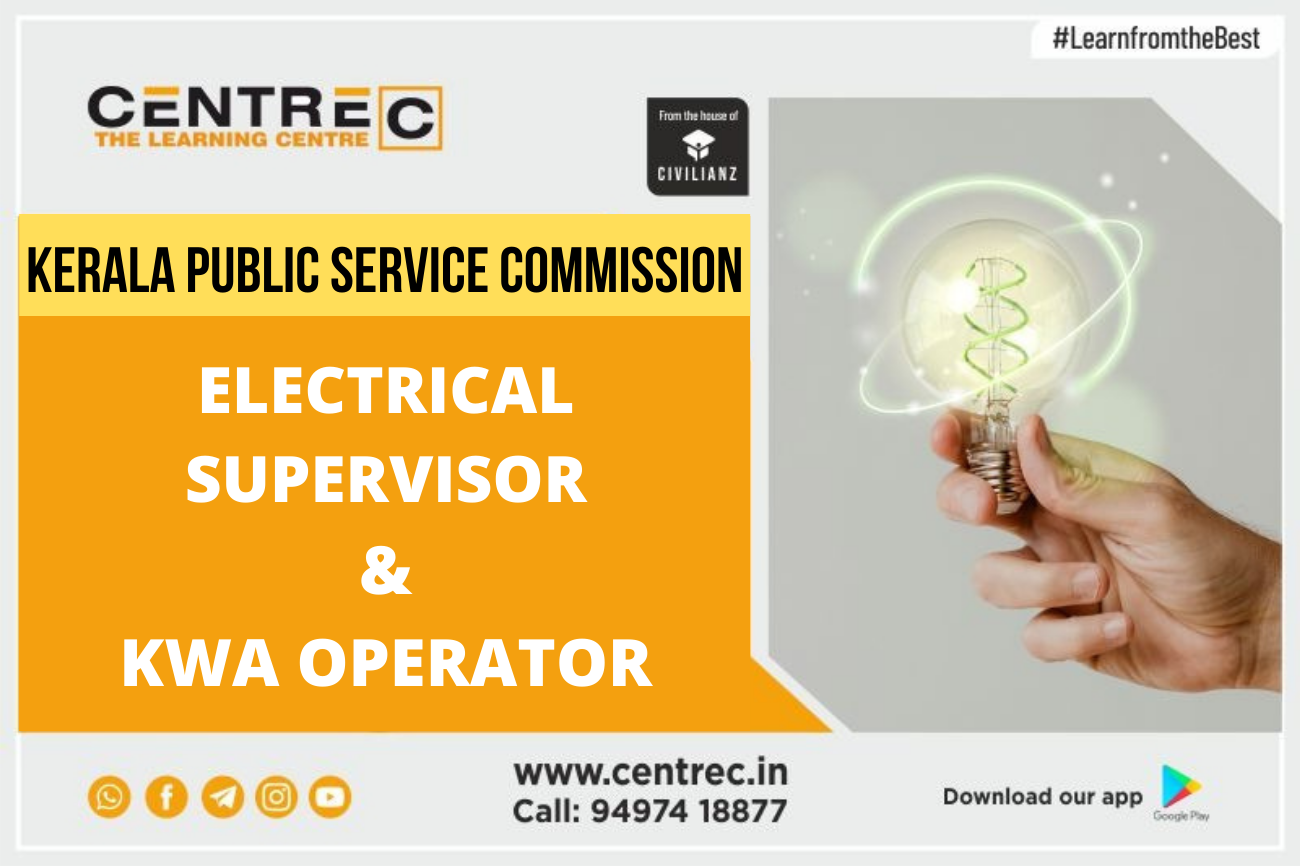 KERALA PSC EXAM DATES FOR ELECTRICAL EXAMS 2022
KERALA PUBLIC SERVICE COMMISSION EXAMINATION PROGRAMME FOR THE MONTH OF JANUARY 2021
Sl.No.
Date
Department
Posts
Category Number
1
01.01.2022
APEX SOCIETIES OF CO-OPERATIVE SECTOR IN KERALA
ELECTRICAL SUPERVISOR
223/2020
2
01.01.2022
KERALA STATE CO-OPERATIVE FEDERATION FOR
FISHERIES DEVELOPMENT LIMITED (MATSYAFED)
ELECTRICAL SUPERVISOR
224/2020
3
30.01.2022
KERALA WATER AUTHORITY
OPERATOR
211/2020
Special Information
While submitting confirmation for the confirmation required posts of this examination programme, candidates can select the District of their Communication Address as choice of their examination centre. For the same, changes can be made in Communication Address if necessary and special attention to be taken to submit confirmation only after making necessary changes in their Communication Address in the Profile.
For detailed exam calendar,
ELECTRICAL SUPERVISOR
Name of Concerns
1. APEX SOCIETIES
2. MATSYAFED
Starting Date for Confirmation
23.10.2021
Last Date for Confirmation
11.11.2021
Date of Admit Card
17.12.2021
Date of Exam Date
01.01.2022
For detailed syllabus,
OPERATOR
| | |
| --- | --- |
| Name of Concerns | KERALA WATER AUTHORITY |
| Starting Date for Confirmation | 23.10.2021 |
| Last Date for Confirmation | 11.11.2021 |
| Date of Admit Card | 15.01.2022 |
| Date of Exam Date | 30.01.2022 |
For detailed syllabus,
WARNING
Admission ticket will not be generated for candidates who fail to submit their confirmation for confirmation required posts on or before 11.11.2021 and their application for the post mentioned in this programme will be summarily rejected.
CENTRE C SOCIAL MEDIA PLATFORMS
Our Social media platforms are exclusively for Electrical Engineering students, job candidates, teachers and all those who have passion for Electrical Engineering.
You will get
Electrical engineering quiz
Regular job notifications
Exam notifications
E – News
E – Shots
Study tips
Electrical related discussion and all in this group.
#LearnfromtheBest