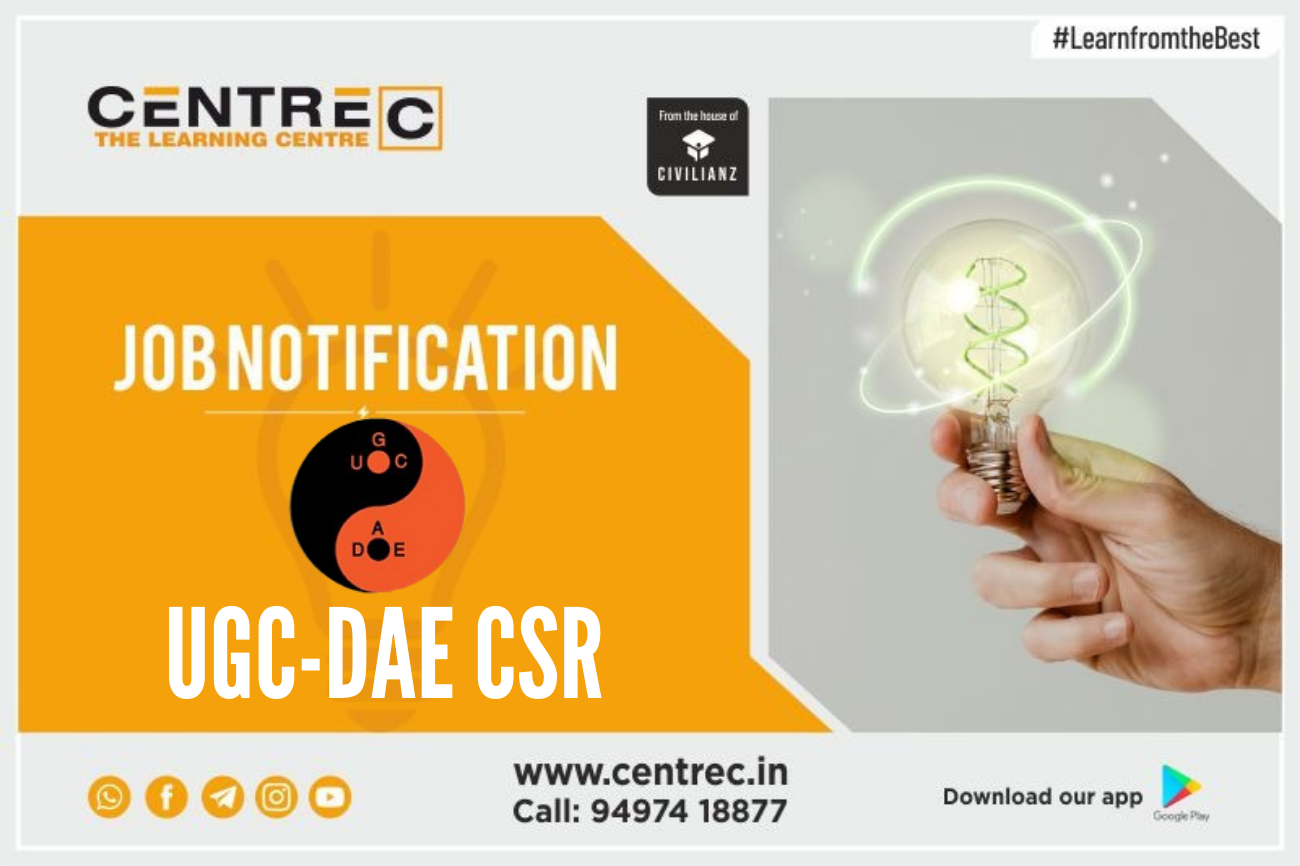 UGC – DAE CSR Electrical Recruitment
UGC – DAE CSR Electrical Recruitment 2021
The UGC-DAE Consortium for Scientific Research (UGC-DAE CSR) is an autonomous institution established by the UGC, New Delhi with headquarters at Indore and Centers at Indore, Mumbai and Kolkata. This Consortium also has a Node near IGCAR at Kalpakkam. Each Centre is headed by a Centre-Director. The UGC-DAE CSR coordinates research from scientists / teachers from all Indian Universities on major facilities like Dhruva reactor, Variable Enelß.r Cyclotron, INDUS-I etc. established by the Department of Atomic In addition, the Centers are also having many advanced research facilities including in the areas of condensed matter physics or allied areas.
Applications are invited for the following posts: –
| | |
| --- | --- |
| Name of the Post | JUNIOR ENGINEER-C |
| No. of Vacancies | 01 |
| Maximum Age limit | 35 Years |
| Minimum Qualification | Diploma in Electrical Engineering with minimum 60% marks |
| Experience | 4 years' experience of working in an academic / industrial research organization |
We welcome applications from less-represented sections of the society in our institute and women candidates.
The Consortium reserves the right to screen and call only such candidates for an interview as are found suitable. Thus, just fulfilling the minimum eligibility criteria would not entitle one to be called for interview.
The candidate is responsible for the correctness of the information provided in the application. If it is found at a later date that any information given in the application is incorrect or false, the candidature is liable to be cancelled, or the appointment terminated. Candidates already employed should produce a no objection certificate at the time of interview.
How to apply:
Applications will have to be submitted through online providing all the particulars about the candidature.
The candidate will have to pay a non-refundable fee of Rs.500/- through SBI Collect and include the transaction ID/ UTR number at the online application portal. Women candidates will have to pay Rs.250/-. Candidates belonging to SC/ ST and persons with disability are exempted from paying this fee.
The UGC-DAE CSR reserves the right to withdraw any advertised post(s) at any time without giving any reason. The number of positions is thus open to change. UGC-DAE CSR may relax/ review the qualification/ experience and age limit at its discretion at any stage and in case of candidates with exceptional merit.
Canvassing in any form will be a disqualification.
No interim correspondence shall be entertained.
The eligibility (Age& Qualifications) of the candidate will be determined on the last date of the submission of hard copy of the application form.
Upon submission of the online applications, a PDF file of the submitted particulars will be automatically generated. The candidate will have to take a printout of the PDF file of the application form and send the following details:
Filled-in application form, signed and dated, separate applications shall be submitted for different positions.
The selection is made as per merit on the basis of written examination for non-gazetted posts of Group C'. In addition, Aptitude/ Skill Test may also be conducted wherever applicable, as per Gol O.M. No. 39020/01/2013-Estt (B)-Part dated 29th December, 2015 and subsequent clarification/ directives issued by the Government of India from time to time. Short listed candidates will be called for verification of the original documents according to Merit and availability of number of vacancies.
A complete CV (not more than four A4 pages), which should include Educational Qualifications (commencing from SSLC or Secondary level) giving details of Board, year, subjects, percentage of marks, division/ grade, Technical / Professional Qualifications giving aforesaid details, Experience as an employee giving details in separate column about Nan-me of the employer, designation, Pay Scales & gross emoluments, Period (Years-Months-Days), Nature of Duties.
Proof of date of birth, and
Caste certificate (if applicable).
| | |
| --- | --- |
| Starting Date of Application | 09.10.2021 |
| Last Date of Application | 30.10.2021 |
| Hard Copy Submission | 08.11.2021 |
Payment:
Details to pay the fee using SBI Collect: Go to State Bank Collect-SBI
Read and accept the terms and conditions by clicking in check box and click on Proceed button.
Select: State of Corporate/lnstitution: Madhya Pradesh
Select: Type of Corporate/lnstitution: Education Institutions Click on GO button
Select Education Institutions Name: UGC-DAE CSR, HO-PLAN
Click on submit button
Select Payment Category: Misc Receipt
Fill all the Details and Pay the amount.
CENTRE C SOCIAL MEDIA PLATFORMS
Our Social media platforms are exclusively for Electrical Engineering students, job candidates, teachers and all those who have passion for Electrical Engineering.
You will get
Electrical engineering quiz
Regular job notifications
Exam notifications
E – News
E – Shots
Study tips
Electrical related discussion and all in this group.
UGC – DAE CSR Electrical Recruitment