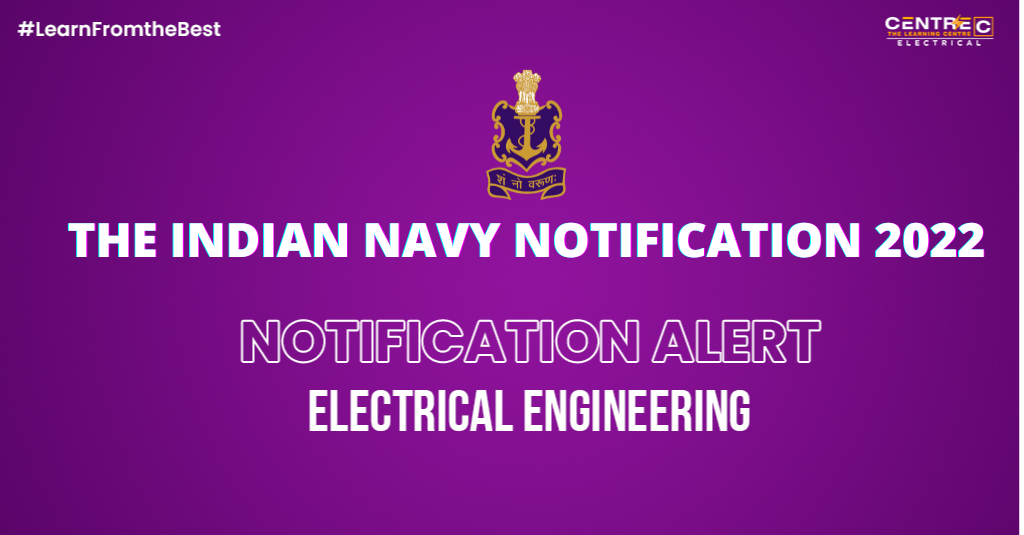 THE INDIAN NAVY NOTIFICATION 2022
CENTRE-C: ELECTRICAL
THE INDIAN NAVY NOTIFICATION 2022
The Indian Navy is the maritime branch of the Indian Armed Forces. The President of India is the Supreme Commander of the Indian Navy. The Chief of Naval Staff, a four-star admiral, commands the navy. Applications are invited from unmarried eligible men and unmarried women candidates for grant of Short Service Commission (SSC) for course commencing Jun 2023 onwards at Indian Naval Academy (INA) Ezhimala, Kerala. Candidates must fulfill conditions of nationality as laid down by the Government of India. Selected candidates will undergo training for respective branches/cadres/ specialisations.
| | |
| --- | --- |
| Name of the Department | Indian Naval Academy |
| Name of the post | Electrical Branch [General Service (GS)] |
| Educational Qualification | BE/B.Tech with minimum 60% marks in Electrical Engineering |
| Vacancy | 45 |
| Pay Scale | Rs 56100/- |
| Upper Age Limit | 02 Jul 1998 to 01 Jan 2004 |
| Start Date to Apply | 21st Oct 22 |
| End Date to Apply | 6th Nov 22 |
| Official Website | www.joinindiannavy.gov.in |
PROBATION PERIOD
Probation period for officers of all branches/cadres is two years. The probation period will commence from the date of grant of the rank of Sub Lt and will terminate after two years for all entries or on completion of initial training (whichever is later). During probation the officers are liable to be discharged in case of unsatisfactory performance at any stage.
| | |
| --- | --- |
| Name of the post | Probation Period |
| Electrical Branch [General Service (GS)] | 2 years |
PAY SCALE
Pay and Allowances/ Group Insurance & Gratuity/ Leave Entitlements/ Duties of Officers. The basic pay of SLt starts from Rs. 56100/- alongwith other allowances as applicable. Further details are available on Indian Navy website.
| | |
| --- | --- |
| Name of the post | Pay and Allowances |
| Electrical Branch [General Service (GS)] | Rs. 56100/- |
SELECTION PROCESS
The selection procedure is as follows:-
(a) Shortlisting of application will be based on normalised marks obtained by the candidates in the qualifying degree. Marks obtained by the candidates in the qualifying degree will be normalised using formulae mentioned in Join Indian Navy website .
(b) BE/B Tech. For candidates who have completed or in final year of BE/B Tech, marks obtained upto fifth semester will be considered for SSB shortlisting.
(c) Post-Graduate Degree Programme. For candidates who have completed MSc, MCA, MBA, M Tech, marks obtained in all semesters will be considered. For candidates who are in final year, shortlisting will be based on pre-final year performance.
(d) Candidates selected in the final merit list will be required to submit the proof of completing the qualifying degree with minimum 60% marks by sending an email at the address officer@navy.gov.in . Candidates failing to meet the criteria will not be permitted to join the Academy.
(e) No communication will be entertained in this regard.
(f) Shortlisted candidates will be informed about their selection for SSB interview through e-mail or SMS (provided by candidates in their application form). Candidates are advised not to change their e-mail/ mobile number till selection process is over.
(g) Change of SSB Centre for interview is not permissible under any circumstances.
(h) Any correspondence regarding change of SSB dates be addressed to the call up officer of the concerned SSB on receipt of call up letter. Candidates are to download the call up letter on receiving intimation from IHQ MoD (N) at SMS/email (provided by candidates in their application).
(j) No compensation is admissible in case of any injury sustained as a result of tests during SSB interviews
(k) AC 3 tier rail fare is admissible for the SSB interview, if appearing for the first time for particular type of commission. Candidates are required to bring photocopy of the first page of pass book or cheque leaf where the name, A/C No. & IFSC details are mentioned, while appearing for SSB.
(l) Details of SSB procedure are available on Indian Navy website
HOW TO APPLY ?
Candidates are to register and fill application on Indian Navy website www.joinindiannavy.gov.in w.e.f 21st Oct 22. To save time during the application submission window, candidates can fill in their details and upload documents in advance. The online submission of application is as under:-
(a) Whilst filling up the e-application, it is advisable to keep the relevant documents readily available to enable the following:-
(i) Correct filling up of personal particulars. Details are to be filled up as given in the Matriculation Certificate.
(ii) Fields such as e-mail address, mobile number are mandatory fields and need to be filled.
(b) All relevant documents (preferably in original), marks sheets upto 5th & 7th semester for regular and integrated BE/ B.Tech courses respectively and all semesters for other degree examination, date of birth proof (as per 10th & 12th certificate), CGPA conversion formula for BE/ B.Tech, Merchant Navy certificate issued by Government of India, Ministry of Shipping& Transport, NCC 'C' certificate issued by National Cadet Corps and a recent passport size colour photograph should be scanned in original JPG/TIFF format, for attaching the same while filling up the application.
(c) If any scanned document is not legible/readable for any reason, the application will be rejected. Candidates are to take print out of application and carry it while appearing for SSB interview.
(d) The application once submitted will be final and no request for amendments/change will be entertained
TRAINING
(a) Candidates will be inducted in the rank of Sub Lieutenant.
(b)Officers of Extended NOC (General Service/Executive & Hydro) will undergo 44 weeks training & Officers of regular NOC (all branches) will undergo 22 weeks training at the Naval Academy, Ezhimala. This will be followed by professional training at Naval Ships and training establishments as per extant regulation.
(c) Only unmarried candidates are eligible for training. Any candidate who is found to be married or marries while under training will be discharged from service and shall be liable to refund full pay & allowances drawn by him/her and other expenditure incurred on the candidate by the Government.
(d) If the officer voluntarily withdraws from initial training or resigns during the probationary period, he/she shall be required to refund the cost of training in whole or in part, as may be determined by Govt. and all money received by him/her as pay and allowances from the Govt. together with the interest on the said money calculated at the rate in force for Govt loans.
(e) Candidates who fail to qualify the flying training (Pilot/NAOO) will not be retained in Service.
FOR DETAILED NOTIFICATION
Get prepared for all the Electrical Engineering exams with a single enrollment!😎
Specially structured to learn each subject from basic to advanced levels,
HIGHLIGHTS
✅ Recorded videos with Unlimited streaming
✅ 350+ hours of lectures
✅Comprehensive coverage of the latest syllabus, including Overseer Grade-I/KSEB Sub-Engineer
✅A highly trained and dedicated faculty team
✅ 150+ total tests
✅ Interactive quizzes
✅Onboard support and doubt clearance
✅Regular performance analysis and personal mentoring
Admissions Open…
1-year validity
Its your high time to choose the right decision!
For admissions call us at
📲 94 97 41 88 77
📲 94 97 41 88 66
Our Social media platforms are exclusively for Electrical Engineering students, job candidates, teachers and all those who have passion for Electrical Engineering.
You will get
Electrical engineering quiz
Regular job notifications
Exam notifications
E – News
E – Shots
Study tips
Electrical related discussion and all in this group.