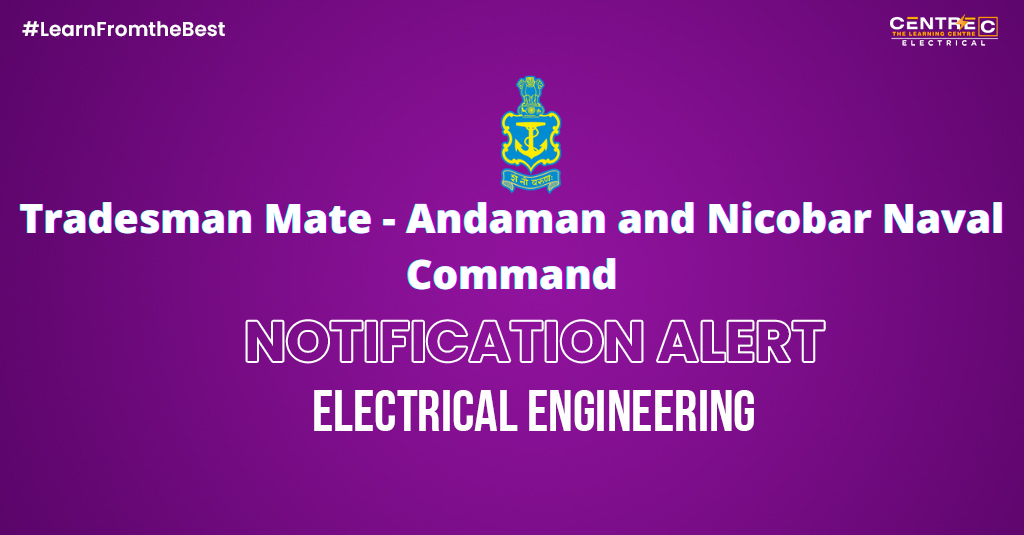 Tradesman Mate – Andaman and Nicobar Naval Command
Tradesman Mate – Andaman and Nicobar Naval Command
CENTRE-C ELECTRICAL
The Indian Navy is the naval branch of the Indian Armed Forces. The President of India is the Supreme Commander of the Indian Navy. The Chief of Naval Staff, a four-star admiral, commands the navy. Indian Navy invites online applications from eligible candidates through website for the post of Tradesman Mate classified as Group "C" Non Gazetted, from Electrician Trade, Industrial at various units of Headquarters Andaman and Nicobar Command (application in other forms of mailing will not be accepted). Selected candidates normally will have to serve in the units under administrative control of Andaman and Nicobar Command, however they can be posted anywhere in India, in Naval Units/ formations as per administrative requirement. Other forms can be downloaded from website. Details of the posts are as follows.
| | |
| --- | --- |
| Post | Vacancy |
| Tradesman Mate(Electrician) | 112 |
AGE
Between 18 to 25 years as on crucial date. Age relaxations and crucial date mentioned at para 6 below.
ESSENTIAL QUALIFICATIONS
10th standard pass from a recognized Board/ Institutions and Certificate from a recognized Industrial Training Institute in the relevant trade.
Nature of Duties/ Job Profile
Indicative duties related to post is as follows: –

(a) Working in production / maintenance of shop/ ship/ submarine.
(b) General cleanliness & upkeep of the Section/ Unit.
(c) Carrying of files and other papers within the office area.
(d) Photocopying, sending/ receiving of Fax, Letters etc.
(e) Other non-clerical work in the sections/ Unit.
(f) Assisting in routine office work like diary, dispatch etc. including on computer.
(g) Delivering of DAK (Inside & Outside the Section/ Unit)
(h) Watch & Ward duties.
(j) Opening and closing duties.
(k) Cleaning of building, fixture etc.
(l) Dusting of furniture etc.
(m) Upkeeps of Parks, lawns, potted plants etc.
(n) Assisting Tradesman Skilled and other senior Industrial Technical supervisory staff in defect identification and rectification on board warships, Yard"s shop floor and establishment.
(p) Any other work assigned by superior authority.

Note:- The above list of duties is only illustrative and not exhaustive Section/ Department of the Indian Navy may add in the list, duties ordinarily performed by personnel at this level.
MODE OF SELECTION
(a) Screening of Applications. Where the number of online applications received are too large (for posts with Matriculation as Educational qualification) in
proportion to the vacancies and it is not convenient Administratively for the Department to call all the candidates for the written test, Indian Navy at its discretion, may restrict the number of eligible candidates, whose applications are registered, by short listing as per merit up to the ratio of 1:25 to the number of
vacancies based on the marks obtained in the minimum requisite educational qualification for this recruitment/ post i.e. Matriculation or equivalent from a
recognized Board. Merely fulfilling the basic selection criteria does not automatically entitle a person/ applicant to be called for the written test.

(b) Scheme of Written Examination. All Shortlisted/ eligible candidates will have to appear in written examination consisting of objective type questions based
on the Essential qualifications, as mentioned at para 4 above. The question paper will be bilingual in both English & Hindi (except for General English) covering aspects as below: –
| | | |
| --- | --- | --- |
| Part | Subject | Maximum Marks |
| (i) | General Intelligence and Reasoning | 25 |
| (ii) | General English & Comprehension | 25 |
| (iii) | Numerical Aptitude/ Quantitative Ability | 25 |
| (iv) | General Awareness | 25 |
| – | Total | 100 |
(c) Resolution of Tie. In case one or more than one candidate secures equal aggregate marks, tie will be resolved by applying following methods, one after
another, till the tie is resolved: –
(i) Date of Birth is to be considered to arrive at the merit list, the older the candidate will prevail as the higher selected candidate in merit.
(ii) Alphabetical order in which the first names of the candidates appear.

(d) Syllabus for Examination.
(i) General Intelligence and Reasoning. It would include questions related to Mathematical operations, Series, Odd One Out, Logical Venn Diagrams, Analogy, Word Based Problems, Problems Solving, Drawing Inference, Coding-Decoding, Non-Verbal Reasoning etc.
(ii) General English & Comprehension. In addition to the testing of candidates understanding of English language, this test will also assess vocabulary, grammar, sentence structure, synonymous, antonyms, Comprehension and its correct usage etc.
(iii) Numerical Aptitudes / Quantitative Ability. This test will include question on problems relating to number systems, Time & Work, Mensuration, Ratio and Proportion, Average, Profit and Loss, Discount, Percentage, Time and Distance, Simple and Compound Interest, Statistical Chart, Trigonometry, Geometry etc.
(iv) General Awareness. The test will include questions relating to India and its neighboring countries especially pertaining to sports, history, culture, Geography, Physics, Chemistry, Computer Science, Environmental Science, Economics, Current Events, General policy including Indian Constitution and
Scientific Research etc. These questions will be such that they do not require special study of any discipline.

(e) Date of Examination. Exact date, time and venue of examination will be communicated to the candidates on registered mobile number/ email ID. Admit Cards can also be downloaded from the website www.andaman.gov.in. The website may also be referred from time to time for any further instructions/ amendments.

(f) Provisional Appointment Letter. The appointment of provisionally selected candidates will be strictly based on the merit position in the written examination subject to satisfactory verification of documents, Medical Examination and other requirements as specified by the Govt. of India and Appointing Authority.

(g) Document Verification. All documents pertaining of age, education, identity, address, category, caste validity certificate etc. will be scrutinized and
verified prior to provisional appointment as per extant DOP&T policy. Date and venue for document verification will be intimated to the provisionally selected candidates on their registered mobile phone/ e-mail IDs and by post.
General Instructions
(a) Only Indian Nationals can apply for the subject post.
(b) Qualifications will be considered as on the date of closing of application.
(c) The applicant should ensure that he/ she fulfills the eligibility and other norms mentioned in the advertisement. Particulars furnished in the Application Form should be correct in all respects. If any false or incorrect information furnished by the applicant is detected at any stage, his/ her candidature will be cancelled without prejudice to taking legal action against him/ her.

(d) The eligibility with respect to age, educational qualification, etc. will be determined as on the closing date for online registration. Though essential
qualification for the post is matriculation and ITI, higher qualification, if any, possessed by the candidate is also to be disclosed.
(e) In case, the candidates working in Central Government fails to produce the NOC when demanded, his/ her candidature will be cancelled.
(f) No relaxation in age limit will be provided unless the category is filled appropriately at the relevant column in the online application form.
(g) HQANC/ Indian Navy reserves the right to cancel the candidature of any candidate found indulging in any malpractice/ unfair means or hiding any material
information, misrepresenting facts or canvassing for candidature. Mobiles and other electronic gadgets are banned within the premises of the examination centers. Possession of such equipment whether in use or in switch off mode, during the examination will be considered as use of unfair means. All such candidates will be liable to be debarred from this examination as well as future examination. A criminal proceeding may also be initiated.
(h) Candidates are also requested to check www.andaman.gov.in websites regularly till completion of recruitment for updates/ corrigendum and any further
instructions.
(j) The SC/ST/EWS candidates should be in possession of a latest copy of caste certificate for claiming age/ other relaxation/ reservation and produce original
certificate on demand.
(k) In case of OBCs, the candidate is required to produce, on demand, a caste certificate (valid for three financial years), specifying that the candidate does not
belong to "Creamy layer". The certificate should be as per format contained in GOI, DOP&T OM 36036/2/2013-Estt. (Res) dated 30 May 2014 and 36033/1/2013-Estt (Res) dated 27 May 2013.
(l) Armed Forces personnel applying for; the posts should upload an undertaking as per GOI/DOP&T OM 36034/2/91/Estt. (SCT) dated 03 Apr 1991 to avail age relaxation/ reservation.
(m) The persons with Benchmark Disabilities (PwBDs), who want to avail benefit of reservation and age relaxation should be in possession of disability certificate issued by the Competent Authority with 40% or above percentage of disability.
(n) The vacancies shown above are provisional and may vary. The vacancies may be reduced/ increased or even made nil without assigning any reason thereof.
The recruitment process can be cancelled/ postponed/ suspended/ terminated without any notice/ assigning any reasons, at any stage.
(p) Candidates will have to make their own arrangement for lodging/ boarding while at Port Blair for the written test. Candidates are advised not to bring any
valuable/ costly items to the examination center as safe keeping of the same cannot be assured. HQANC/ Indian Navy will not be responsible for any loss in this regard.
(q) Various format of certificates for direct recruitment of Naval Civilians are available at Website www.andaman.gov.in.
(r) Ex-Serviceman candidates are to upload certificate in support of their claim and meet existing Govt. orders on qualifying as Ex- Serviceman. No age relaxation is admissible to sons/daughters of Ex- Serviceman.
(s) In case of an Ex-Serviceman who has once joined in a Govt. job on the civil side after availing the benefits given to him as an Ex-Serviceman for his reemployment, his Ex-serviceman status for the purpose of re-employment in Government ceases.
(t) The candidate selected on appointment will be governed by the provisions of the New Pension Scheme as introduced the Govt. of India w.e.f. 01 Jan 2004.
(u) In case, the applicants working in central/ state government etc. fails to produce the NOC when demanded, his/ her candidature will not be considered.
(v) As per Ministry of Human Resource Development Notification No. F.6-1/2013- DL dated 27 Aug 2018 published in Gazette of India dated 01 Sep 2018, all the degrees awarded through Open and Distance Learning mode of education by the Universities established by an Act of Parliament or State Legislature, Institutions Deemed to be Universities under Section 3 of the University Grants Commission Act, 1956 and Institutions of National Importance declared under an Act of Parliament stand automatically recognized for the purpose of employment to posts and services under the Central Government, provided they have been approved by the University Grants Commission and wherever necessary by All India Council for Technical Education for the programme for which it is the regulatory authority.
(w) In accordance with the directions issued by DoP&T OM No. 39020/1/2016- Estt. (B) dated 21 Jun 16, the candidates will have the option to opt out of the
disclosure scheme. The option of opting out will have to be made at the time of filing up of application form. Accordingly, the scores and rankings in respect of only those candidates who have opted for disclosing the details or else have inadvertently not exercised their option will be made available on the website www.andaman.gov.in.
Important Dates
| | |
| --- | --- |
| START DATE/ TIME FOR SUBMISSION OF ONLINE APPLICATION | 02 AUG 2022 |
| LAST DATE/ TIME FOR SUBMISSION OF ONLINE APPLICATION | 06 SEP 2022 |
GUIDELINES FOR FILLING ONLINE APPLICATION
(a) Candidates are required to apply online using the website https://erecruitment.andaman.gov.in >> Apply Online >> Recruitment for the post
of Tradesman Mate, Headquarters, Andaman and Nicobar Command. Before filling online application form, applicants are advised to read and download online information guidelines containing instructions for filling up Online Application Form.
(b) The applicant must possess the required criteria and educational qualification as mentioned in the recruitment advertisement.
(c) Applicants are not to send copy of application form or any document to this office. However, candidates are to take a printout of Application form for his / her personal record. A print out of the ADMIT CARD IS TO BE BROUGHT TO THE WRITTEN EXAMINATION VENUE, BY ALL SHORTLISTED CANDIDATES, FAILING WHICH THE CANDIDATE WILL NOT BE ALLOWED TO APPEAR FOR THE EXAMINATION.
(d) If a candidate commits any mistake in filling the online application form or uploading of requisite documents, it cannot be corrected by HQANC/ Indian Navy. HQANC/ Indian Navy will not be responsible for mistake of any kind in the application process by the candidate.
(e) The applicants must ensure that while filling their Application Form, they are providing their valid and active e-mail IDs and mobile number as HQANC/ Indian Navy may use either mode of communication for contacting them at different stages of recruitment process. No change in the mobile number and email ID will be allowed once entered. HQANC/ Indian Navy will not be responsible for non-receipt of communication on registered mobile number/ e-mail IDs.
(f) Candidates are strongly advised in their own interest to apply online well before the closing date and not to wait till the last date to avoid the possibility of
disconnection/ inability/ failure to log on the website on account of internet connectivity issue or website overload.
(g) Applicants should not submit multiple applications for same post. However, if due to any unavoidable circumstances, any applicant submits multiple applications then he / she must ensure that the application with higher registration number is complete in all respects, which will be considered.
(h) Candidates are advised to keep scanned copy (JPEG/JPG/PNG/PDF as applicable) of the following documents ready before proceeding to fill up the online
application: –
(i) Passport size color photograph with light background (preferably white) without any obstacle covering/ obstructing the face and eyes. The file size of photograph should be between 20 KB and 50 KB.
(ii) Candidate"s signature should be on a plain white paper with black ink. The signature should not be digitized. It should be scanned copy of your own
signature on paper with pen. The file size of signature document should be between 10 KB and 20 KB.
(iii) Candidate"s Left-hand Thumb impression should be on a plain white paper with Blue/ Black ink. The thumb impression should not be digitized. It
should be scanned copy of your own thumb impression taken on blank white paper. The file size of thumb impression image document should be between 10 KB and 20 KB.
(iv) A copy of candidate"s Caste/ EWS Certificate, in case applying against a reserved post (50 KB – 200 KB).
(v) A copy of candidate"s Birth Certificate/ Matriculation/ SSC certificate for Date of Birth.
(vi) A copy of candidate"s mandatory and all additional educational qualification proof (50 KB – 200 KB).
(vii) A copy of certificate duly indicating the proof of Ex-Servicemen issued by the Competent Authority (50 KB – 200 KB).
(viii) A copy of certificate showing disability for PwBDs and eligibility for scribe, if applicable (50 KB – 200 KB).
(ix) Any other document, as applicable (50 KB – 200 KB)
For Detailed Notification
Get prepared for all the Electrical Engineering exams with a single enrollment!😎
Specially structured to learn each subject from basic to advanced levels,
HIGHLIGHTS
✅ Recorded videos with Unlimited streaming
✅ 300+ hours of lectures
✅Comprehensive coverage of the latest syllabus, including Overseer Grade-I/KSEB Sub-Engineer
✅A highly trained and dedicated faculty team
✅ 150+ total tests
✅ Interactive quizzes
✅Onboard support and doubt clearance
✅Regular performance analysis and personal mentoring
Admissions Open…
1-year validity
Its your high time to choose the right decision!
For admissions call us at
📲 94 97 41 88 77
📲 94 97 41 88 66
Our Social media platforms are exclusively for Electrical Engineering students, job candidates, teachers and all those who have passion for Electrical Engineering.
You will get
Electrical engineering quiz
Regular job notifications
Exam notifications
E – News
E – Shots
Study tips
Electrical related discussion and all in this group.