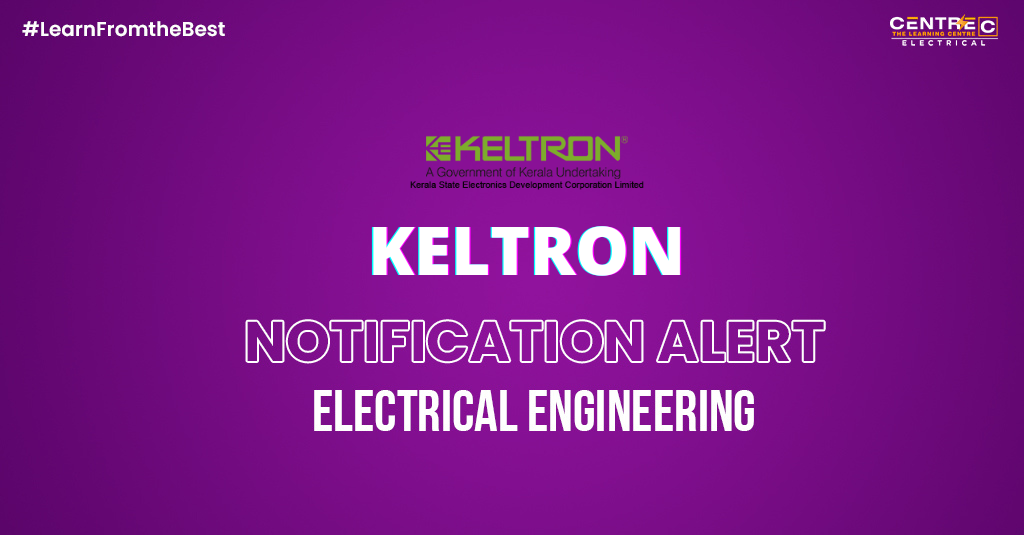 Engineer / Technical Assistant – KELTRON
Kerala State Electronics Development Corporation Limited's (KSEDC) history is a saga of innovation in electronics. From being a pioneer in 1973, to the role of a trend-setter today, Keltron has been the catalyst for the development of electronics industry in Kerala. Keltron had set up several production centres and engaged more than 5,000 people directly or indirectly for the manufacture of electronic goods & services in strategic sector. KELTRON is a multi-product organization producing a wide range of products from discrete electronics components to complex equipment and systems. Kerala State Electronics Development Corporation Limited (KELTRON), a premier Public Sector Undertaking in State Sector is on the lookout for experienced personnel for appointment to the post of Sr. Engineer, Engineer and Technical Assistant from Electrical & Electronics Engineering trade on contract basis for the execution of projects in various Units as below:
| | | |
| --- | --- | --- |
| Post | Qualification | No. of Vacancies |
| Sr. Engineer | BE/ B.Tech in EEE with 60% marks | 02 |
| Engineer | BE/ B.Tech in EEE with 60% marks | 13 |
| Technical Assistant | Three year full time Diploma with 60 % marks | 27 |
General Conditions for the post of Engineer / Technical Assistant – KELTRON
Only online applications will be accepted.
Age for the selection will be calculated as on the 1 st day of January of the year in which the notification for the selection is published.
The prescribed experience should be acquired on or before the last date stipulated for the receipt of the application. Qualifications should be from approved institutions.
The selection process will be based on academic qualifications and experience and will also include written test, group discussion and/or interview as may be decided depending on the total number of eligible applicants.
There will be separate written tests. Written Tests may be conducted simultaneously. Keltron will not be responsible for the loss of opportunity of the candidates who are applying for multiple categories.
Communal rotation, age relaxation and experience will be as per Kerala Public Service Commission norms and relevant Government Orders respectively.
Documents to prove Qualification, Experience, Age, Community etc. have to be produced as and when called for. SC/ST candidates have to produce caste certificate, OBC candidates have to produce Non-Creamy Layer Certificate and General category Candidates who are eligible for the EWS reservation has to produce the relevant certificate at the time of verification.
Candidature of applicants who fail to submit original documents to prove his/her credentials claimed in the application at the time of certificate
verification will be rejected and will not be permitted for further selection process.
In case of false or insufficient information/ lack of proof to ascertain the eligibility of the applicant, their candidature will summarily be rejected at any stage of the selection process.
Candidates are informed that mere submission of applications shall not give them any right to be called for interview/selection. Call letters and intimations connected with this recruitment will be sent to shortlisted candidates by e-mail only. Applicants should ensure that the e-mail id given in the online application is maintained active and Keltron will not be responsible for any technical errors related to e-mail correspondence. Applicants may also check the website for status updates.
The Advertisement Code Number and Online Application Number may be noted for future reference.
Candidates are required to pay a non-refundable amount of Rs.300/- as Application Fee ONLINE using State Bank e-Collect facility available at www.onlinesbi.com. There will be no application fee for SC/ST candidates.
Screen shot Guidelines are provided in PDF Format in the following link which is self explanatory. Guidelines for fee payment
The appointment shall be purely on temporary basis for a period of one year. In case of non completion of project within one year, the contract period will be extended for another spell of one year. The total period of temporary engagement of the selected personnel will not be extended beyond a period of two years.
The performance of the candidates will be reviewed during the period of first three months and if the same is not found satisfactory, Management will have the right to relieve the candidate immediately without any notice.
Selected candidates will be deployed in various project locations in India based on the requirements.
Salary (consolidated pay) for the selected candidates will be fixed based on relevant experience / skill set and will be best in the industry. Benefits like ESI, PF etc. may also be applicable as per rules.
The incumbents should have excellent communication/ negotiation skill and be ready to travel anywhere in India.
No TA/DA will be paid for attending selection process.
Management reserves the right not to fill up any or all the posts notified, at its discretion and vacancies may also be increased/decreased depending upon organizational requirements and also for the placement in the suitable category/post.
Management reserves the right to change the venue of test/interview, to cancel this notification and/or to limit the appointment to certain area.
The decision of the Managing Director will be final in all matters relating to this recruitment.
Any type of canvassing will automatically lead to disqualification and no further correspondence shall be entertained after disqualification.
Any change in dates will be published in website only. No separate intimation will be given to the candidates in this regard.
It may be noted that future requirements if any will also be operated from this notification. Rank list as validity of two years from the date of publication.
Experience Required & Pay Scale
| | | |
| --- | --- | --- |
| Post | Experience | Pay Scale |
| Sr. Engineer | 5 Years | 18,000 – 27,500 |
| Engineer | 1 Years | 15,500 – 23,500 |
| Technical Assistant | 1 Year | 12,000 – 13,500 |
How to Apply ?
Candidates agreeing the above terms & conditions and having specified post qualification experience may apply online on or before 06/05/2022.
For Detailed Notification;
Our Social media platforms are exclusively for Electrical Engineering students, job candidates, teachers and all those who have passion for Electrical Engineering.
You will get
Electrical engineering quiz
Regular job notifications
Exam notifications
E – News
E – Shots
Study tips
Electrical related discussion and all in this group.