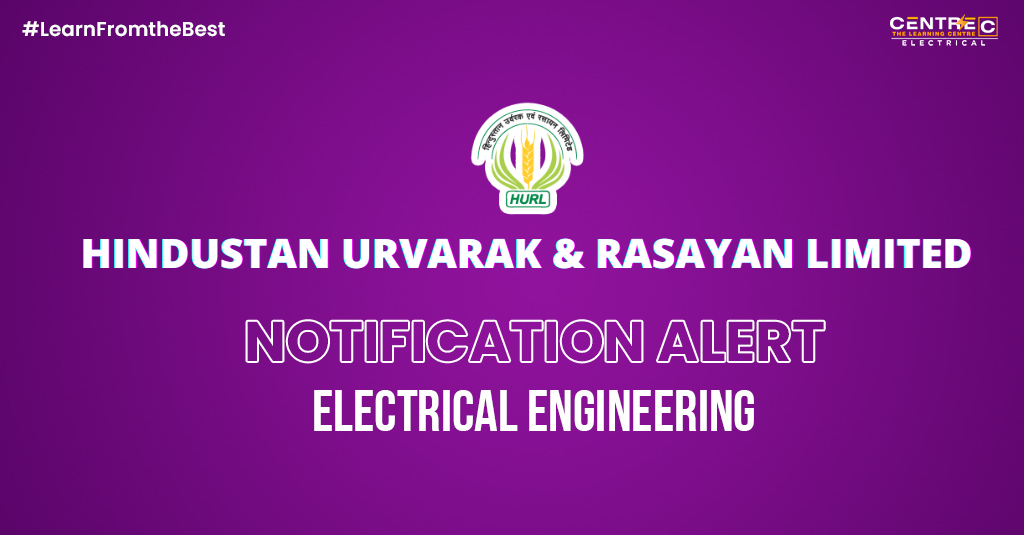 Executive – HINDUSTAN URVARAK & RASAYAN LIMITED
Hindustan Urvarak & Rasayan Limited (HURL) was incorporated on 15th June, 2016 as a joint venture company by Coal India Limited (CIL), NTPC Limited (NTPC) and Indian Oil Corporation Limited (IOCL) as the lead promoters with Fertilizer Corporation of India Limited (FCIL) and Hindustan Fertilizer Corporation Limited (HFCL) as other two partners. The three lead promoter companies of HURL namely CIL, NTPC and IOCL are amongst top Maharatna Public Sector Undertaking of the Government of India, belonging to Ministries of Coal, Power and Oil & Natural Gas. These three companies hold a total of 89% equity share with equal partnership, while FCIL and HFCL together have the balance 11% share against their usable assets, opportunity cost and use of land on lease basis at the three plant locations. HURL invites applications from Electrical & Electronics Engineers to Executive posts.
| | | | |
| --- | --- | --- | --- |
| Post | Vacancies | Age Limit | Experience |
| Manager | 01 | 40 | 10 Years |
| Assistant Manager | 03 | 35 | 05 Years |
| Engineer | 04 | 30 | 02 Years |
General Information for the post of Executive – HINDUSTAN URVARAK & RASAYAN LIMITED
Qualifying Degree/Diploma should be full time and regular.
All qualifications should be from an Indian university/ Institute recognized by AICTE/ appropriate statutory authority. In case of qualifications acquired from foreign Universities/Institutes, the candidate shall be required to produce equivalence certificate for such qualifications. The
corresponding equivalent Indian qualification shall be recognized by AICTE/Appropriate Statutory Authority.
Candidates should apply for one post only.
The cut-off date for determining eligibility criteria in respect of age and post qualification experience shall be 11.05.2022 and will remain unchanged irrespective of any reason whatsoever.
The detailed job-description for each position can be seen on the on-line application portal. Job description for each position is to be read in conjunction with the contents of the Advertisement.
Wherever CGPA/OGPA/DGPA or Letter Grade in a degree is awarded; equivalent percentage of marks should be indicated in the application form as per norms adopted by University/Institute.
The documentary proof in support of the same must be submitted at the time of verification. Where no norms have been specified, the CGPA/OGPA will be presumed to have been provided on a 10-point scale.
For calculation of percentage in the qualifying degree, the guidelines given by university/College will be used. In case there are no such guidelines or documentary proof for the same, then the marks obtained in all the semesters will be used to calculate the final percentage.
In case of any discrepancy/ change in nomenclature of qualification/ discipline, HURL shall have the discretion in deciding on equivalence based on subjects studied, duration, submission of certification from University/College etc. and the decision of HURL shall be treated final and binding.
Work experience should be after acquiring relevant educational qualification and should be inline/relevant executive experience. Candidate's work experience as Management Trainee/ Graduate Engineer Trainee would be counted only in case he/she is regularised in the same company.
Teaching/ lectureship, Part-time jobs, apprenticeship, internship and articleship will not be considered for calculating work experience.
The choice of posting given by the candidates shall be only indicative in nature. Selected candidates shall be liable for posting to any of the three sites of HURL viz. Gorakhpur, Barauni & Sindri or Delhi
HQ or any other location as per requirements of the Company.
Selection Process
Selection Process:
• Selection of Marketing Officers will be on the basis of Computer based test, Group Discussion & Personal interview.
• Selection for all other positions requiring experience will be through Personal interview. The Personal Interview may be conducted through video conferencing/ online mode.

Physical Fitness:
Appointment of selected candidates will be subject to their being found medically fit in the Medical Examination to be conducted as per HURL Rules and Standards of Medical Fitness for the relevant post.
Important Dates for the post of Executive – HINDUSTAN URVARAK & RASAYAN LIMITED
| | |
| --- | --- |
| Particular | Date |
| Start date of online registration | 26.04.2022 |
| Last date of online registration | 11.05.2022 |
| Cut-off date for calculating Age & Experience | 11.05.2022 |
Nature & Period of Engagement
Selected candidates will be appointed on probation basis for a period of 1 year. Candidates will be required to get satisfactory performance rating for confirmation of their services at the end of the probation period.
Those who fail to achieve so, their probation period may be extended and further action will be taken in accordance with the policy of the Company.
Remuneration
HURL offers an attractive and one of the best in the industry compensation package, pay and perks to its employees. An indicative average pay drawn at various levels is as below. The final pay shall be commensurate to the individual's profile.
| | |
| --- | --- |
| Designation | Average Annual CTC (Rs. In Lakhs) |
| Chief Manager | 27 |
| Manager | 19 |
| Asst. Manager | 12.5 |
| Officer /Engineer | 8.5 |
Candidates will be eligible for annual increment @5% of CTC apart from performance linked increment. The company provides medical insurance cover to its employees and dependent family members over and above CTC.
How to Apply to the post of Executive – HINDUSTAN URVARAK & RASAYAN LIMITED?
Before applying, candidates should ensure that they satisfy all the necessary conditions and requirements of the position.
Interested candidates fulfilling the above laid down eligibility criteria are required to apply online in the registration format available in the Career Section of HURL website, www.hurl.net.in
A valid e-mail ID is essential for submission of the online application. HURL will not be responsible for bouncing of any e-mail sent to the candidates.
For Detailed Notification
Our Social media platforms are exclusively for Electrical Engineering students, job candidates, teachers and all those who have passion for Electrical Engineering.
You will get
Electrical engineering quiz
Regular job notifications
Exam notifications
E – News
E – Shots
Study tips
Electrical related discussion and all in this group.