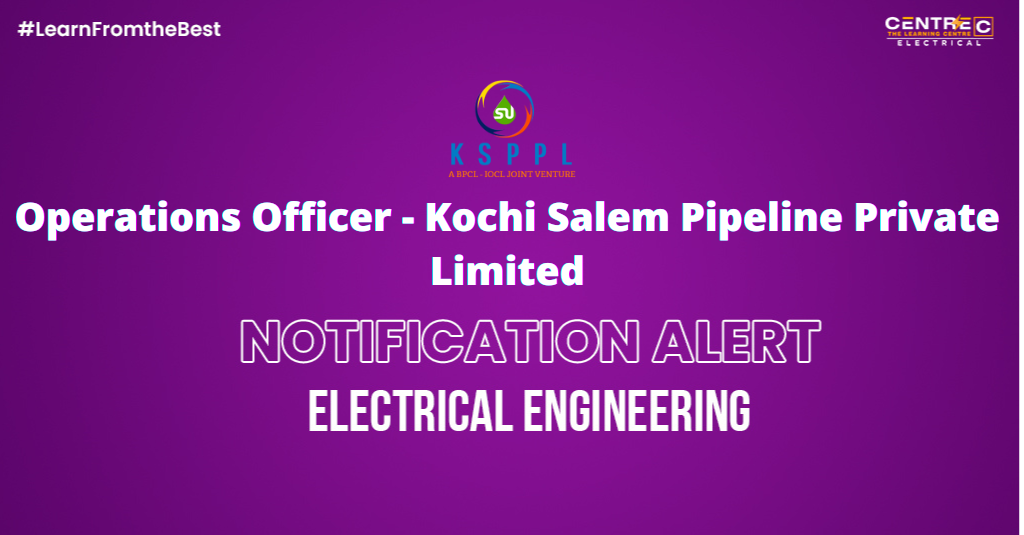 Operations Officer – Kochi Salem Pipeline Private Limited
CENTRE-C: ELECTRICAL
Operations Officer – Kochi Salem Pipeline Private Limited
Kochi Salem Pipeline Private Limited is a Joint Venture of Bharat Petroleum Corporation Limited and Indian Oil Corporation Limited with 50% equity participation each having registered office at Malayil Majesty Buildings, Room No. 174-G Second Floor, Trippunithura, Kochi, Kerala- 682301. The project envisages laying of 12"/8"dia,429Km LPG pipeline from Kochi to Salem connecting their dispatch terminals at Kochi Refinery and Puthuvypeen and Receipt terminals at Udayamperoor, Palakkad, Coimbatore, Erode and Salem LPG plants of BPCL/IOCL. Estimated project cost is Rs. 1507 Crores. KSPPL invites applications to the post of Operations Officer from Electrical & Electronics Engineers.
| | |
| --- | --- |
| Post | Vacancy |
| Operations Officer – Instrumentation | 01 |
Preferred Skill Sets :
Instrumentation : Exposure/ Experience in PLC (Safety & Process), Pipeline SCADA, Telecom, OFC, Maintenance and calibration of PTs, TTs, FTs, Coriolis Mass Flow Meters, Gas/ Flame/ Smoke Detectors etc. Candidate shall be capable of Interpretation P&IDs, Understanding/troubleshooting of PLC logic systems and pump operating sequences.
Duties and Responsibilities :
Responsible for cross country pipeline operation for transfer of LPG as per the standard operating practices
Shall be responsible for adhering and implementing the safety standards prescribed
Shall be responsible for assurance of Quality in pipeline operation
Shall be participant in all safety and operational audits
Shall prepare and submit the operation budget for sanction at the appropriate level
Shall be prepared for multi-tasking as per the requirements of the job
Shall be responsible for the preparation of various documents and reports relevant for the job
Shall be responsible for carrying out the timely maintenance of the facilities for seamless and safe operation
Skills and Qualifications :
Candidates shall be a holder of minimum Bachelor Degree(full-time) in Electrical & Instrumentation/Electronics & Instrumentation/Control & Instrumentation/Electronics & Communications, Mechanical Engineering from a reputed University with minimum aggregate of 60 % marks.
Candidates shall be a good team player and have the required passion to learn , drive and excel in his line of activities in the assigned jobs
Candidates shall have good communication skills in local language, Hindi or English
Candidates having experience in any of the pipeline operations or related fields in any hydrocarbon plants shall be desirable
Candidates shall be prepared to work in day and night shifts and for extended hours based on operational requirements across the locations of the company
Candidate shall be willing to relocate or travel to any of the terminal locations as assigned by the company in its area of operations between Kochi and Salem.
Candidates shall be medically fit and employable for the job and shall go through a complete medical examination before employment
Remuneration
CTC of Rs.5 Lakh per annum
General conditions
Only Indian Nationals needs to apply.
The placement will be on permanent basis with a probation period of one year
Mere conformity to the job requirements will not entitle a candidate to be called for interview. Management reserves the right to reject the application without assigning any reason, to increase/decrease the number of posts depending on the requirement, raise the Standard of Specifications to restrict the number of candidates to be called for interview
Age of the candidate shall not be more than 30 years as on the date of advertisement of vacancy.
The original documents/certificates/testimonials in proof of Age (Only SSLC/SSC Certificate will be admitted as proof of age), qualification, and experience, as mentioned/enclosed in the application shall be produced at the time of interview for verification. In case of failure to produce the original testimonials/certificates as mentioned in the application for verification while attending the interview, the candidate will not be allowed to appear for the interview
Candidates shall be subjected to medical examination prior to their appointment
No correspondence will be entertained with the candidates not selected for interview.
Incomplete application or applications not in the prescribed format will be rejected and no correspondence in this regard will be entertained.
Management reserves the right to call or not to call any/all of the candidates who have responded against this advertisement.
Management will not be responsible for delayed receipt/non-receipt of applications
The decision of Management regarding selection will be final.
Selection Procedure
Eligible candidates shall undergo a written test followed by Group discussion and personal interview at Kochi, to complete the selection process. Instructions regarding interview will be intimated to the short-listed candidates individually.
Bond
The selected candidates will be required to execute a Service Indemnity Bond undertaking to serve KSPPL for a minimum period of 3 years or to pay KSPPL a sum equivalent to six months basic pay in case the candidate leaves KSPPL before completion of 3 years of active service.
Important Date :
| | |
| --- | --- |
| Last Date to Apply to the post of Operations Officer | 23-11-2022 |
How to apply ?
Complete CV/RESUME with recent photo attached along with a set of relevant copies of certificates self-attested along with the proof of Age and Identity shall be sent in a sealed envelope, marking as "APPLICATION FOR THE POST OF OPERATION OFFICER" so as to reach the following address on or before 23 rd November 2022 OR to
No communication otherwise, whatsoever, shall be entertained by the company. Indulgence of any such activity may lead to rejection of the candidature.
For Detailed Notification :
Get prepared for all the Electrical Engineering exams with a single enrollment!😎
Specially structured to learn each subject from basic to advanced levels,
HIGHLIGHTS
✅ Recorded videos with Unlimited streaming
✅ 300+ hours of lectures
✅Comprehensive coverage of the latest syllabus, including Overseer Grade-I/KSEB Sub-Engineer
✅A highly trained and dedicated faculty team
✅ 150+ total tests
✅ Interactive quizzes
✅Onboard support and doubt clearance
✅Regular performance analysis and personal mentoring
Admissions Open…
1-year validity
Its your high time to choose the right decision!
For admissions call us at
📲 94 97 41 88 77
📲 94 97 41 88 66
Our Social media platforms are exclusively for Electrical Engineering students, job candidates, teachers and all those who have passion for Electrical Engineering.
You will get
Electrical engineering quiz
Regular job notifications
Exam notifications
E – News
E – Shots
Study tips
Electrical related discussion and all in this group.