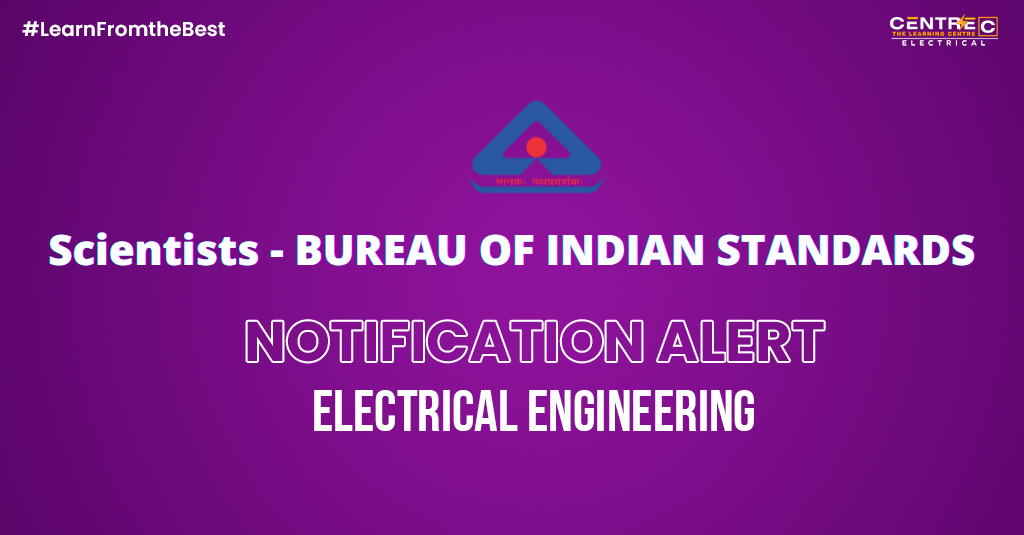 Scientists – BUREAU OF INDIAN STANDARDS
Scientists – BUREAU OF INDIAN STANDARDS
CENTRE-C ELECTRICAL
Bureau of Indian Standards (BIS), a statutory body under the administrative control of Ministry of Consumer Affairs, Food and Public Distribution, Govt. of India, is the National Standards Body of India and is responsible for activities in the field of Standardization, Product and System Certification, Hallmarking of Gold/Silver Jewellery, Laboratory Testing etc., in the country. BIS is also responsible for Standardization and Certification at the International level. BIS offers excellent career opportunities to bright, young dynamic persons for the post of Scientist-'B' in the specified disciplines and categories. These posts are in the Pay Level 10 as per the Seventh Central Pay Commission plus allowances as applicable. The gross emoluments at the time of joining will be approximately ₹ 99,969/- at Delhi at present. For important Service Conditions refer to Annex 1.
| | |
| --- | --- |
| Post | Vacancy |
| Scientist-'B'(Electrical Engineering) | 04 |
AGE LIMIT:
The candidates must be between 21-30 years of age as on closing date of application i.e, as on 26.08.2022. Relaxation in upper age limit for SC/ST/OBC/ Persons with Benchmark Disabilities/Ex-Servicemen shall be as notified by Central Government, from time to time. The Relaxation in upper age limit for SC/ST candidates shall be 5 years; for OBC candidates shall be 3 years; for Persons with Benchmark Disabilities (UR) candidates shall be 10 years; for Persons with Benchmark Disabilities (SC/ST) candidates shall be 15 years; for Persons with Benchmark Disabilities (OBC) candidates shall be 13 years. The upper age limit for Departmental candidates serving in BIS and meeting requisite essential qualifications is 50 years.

Age relaxation for Ex-Servicemen

(i) upto a maximum of three years (eight years for SC/ST) in the case of Defence Services Personnel disabled in operations during hostilities with any foreign country or in a disturbed area and released as a consequence thereof;
(ii) up-to a maximum of five years in the case of Ex-servicemen including Commissioned Officers and ECOs/SSCOs who have rendered at least five years Military Service as on 26.08.2022 and have been released;
(a) on completion of assignment (including those whose assignment is due to be completed within one year) otherwise than by way of dismissal or discharge on account of misconduct or inefficiency, or
(b) on account of physical disability attributable to Military Service, or
(c) on invalidment.
(iii) up-to a maximum of five years in the case of ECOs/SSCOs who have completed an initial period of assignment of five years Military Service as on 26.08.2022 and whose assignment has been extended beyond five years and in whose case the Ministry of Defence issues a certificate that they can apply for civil employment and that they will be released on three months' notice on selection from the date of receipt of offer of appointment.
Note I: The term Ex-Servicemen will apply to the persons who are defined as ex-servicemen in the Ex-Servicemen (Re-employment in Civil Services and Posts) Rules, 1979, as amended from time to time.
Note II: The age concession under para (ii) & (iii) above will not be admissible to Ex-Servicemen and Commissioned Officers including ECOs/SSCOs who are released on own request.
NOTE III: Candidates seeking age relaxation will be required to submit copies of necessary certificate(s) at the time of Online Application, Interview and at any subsequent stage of the recruitment process as required by BIS.
ESSENTIAL QUALIFICATIONS:
Discipline
Required Essential Qualification
Electrical
Engineering
1) Bachelor's Degree in Electrical Engineering or Technology or
equivalent with not less than sixty per cent marks in
aggregate [fifty per cent for Scheduled Castes and
Scheduled Tribes]
2) Having valid GATE* score of 2020/2021/2022.
The GATE score must be valid as on 26.08.2022
(closing date of application).
SELECTION PROCEDURE:
The selection methodology will comprise of following stages:–
a) Short-listing based on GATE 2020, GATE 2021 or GATE 2022 Score: The shortlisting of candidates for Personal Interview will be based on the valid score of GATE 2020, GATE 2021 or GATE 2022, as may be applicable. Short-listing of candidates for Personal Interview will be done in order of merit of valid GATE Scores. In case of tie, with two or more candidates having same GATE score, seniority in the merit will be decided based on following criteria:
(i) Candidate having higher Percentile will be given seniority in merit. Percentile will be calculated by following formula:
Percentile = (Number of Candidates appeared in concerned GATE paper– All India Rank of Candidate in the concerned GATE paper)/ Number of Candidates
appeared in concerned GATE paper.
(ii) In case of further tie in Percentile, seniority in merit will be based on age of candidates, with candidate having earlier date of birth (i.e. elder in age) given
higher seniority.
b) Personal Interview: Only the Short Listed candidates will be called for Personal Interview. Number of candidate to be called for interview will not be higher than 4 times the number of vacancies in the concerned discipline & category. The candidates will be allowed to take part in the Personal Interview process only after successful completion of the Document Verification process. The date, time and venue of interview will be intimated by e-mail. The same will also be hosted on our website: www.bis.gov.in.
c) Final merit list: Candidates shall be selected discipline wise on the basis of merit as determined by the aggregate marks obtained by giving eighty-five percent (85%) weightage to GATE Score and 15 percent (15%) weightage to the marks obtained in interview. In case a tie occurs in the aggregate marks obtained after interview (GATE Score + Interview Marks), the seniority of candidate will be based on the following criteria:
i)The tie may be resolved based on GATE Score with candidate obtaining higher score given high seniority in the merit list.
ii)In the unlikely case of the GATE Score getting tied too, based on age criteria, with the applicant elder in age given high seniority in the merit list.
HOW TO APPLY:
DETAILED GUIDELINES/PROCEDURES FOR
A. APPLICATION REGISTRATION
B. SCAN AND UPLOAD DOCUMENTS/ CERTIFICATES/ GATE SCORE CARD/ SIGNATURE /PHOTO

Candidates can apply online only from 1100 hrs on 06.08.2022 to 23:59 hrs on 26.08.2022. No other mode of application will be accepted.

IMPORTANT POINTS TO BE NOTED BEFORE REGISTRATION

Before applying online, candidates should:
i. Scan their photograph and signature ensuring that both the photograph and signature adhere to the required specifications.
ii. Scan the following certificates/ documents: Date of Birth Certificate, GATE Scorecard, Identity Proof, Degree and Marksheet of Essential Qualification, Degree & Marksheet of Higher/ Additional Qualifications (if any), Category Certificate (if applicable).
iii. Have a valid personal email ID and mobile no., which should be kept active till the completion of this Recruitment Process. BIS will send Interview call letters etc. through the registered e-mail ID.
A. Application Procedure (Read all Instructions Carefully)
Candidates are required to go to the BISwebsite www.bis.gov.in and click on the option "APPLY ONLINE" which will open a new screen.
To register application, choose the tab " Register (New Candidate)" and enter Name, Contact details and Email-id etc. An Application Number will be
generated by the system and displayed on the screen. Candidate should note down the Application Number. An Email & SMS indicating the Provisional
Registration number will also be sent.
All details in the application form should be filled carefully by the candidate.
In case the candidate is unable to complete the application form in one go, he / she can save the data already entered by choosing "SAVE AND CONTINUE" tab.
The Name of the candidate and his /her Father/ Mother etc. should be spelt correctly in the application as it appears in the Certificates/ Identity proof/ Mark sheets. Any change/alteration found may disqualify the candidature.
Candidates can proceed to fill other details of the Application Form.
Candidates can proceed to upload Photo, Signature, Date of Birth Document, GATE Scorecard, Identity Proof, Degree and Marksheet of Essential Qualification, Degree & Marksheet of Higher/ Additional Qualifications (if any), Category Certificate (if applicable).
One of the following documents/ IDs is acceptable for identity verification of candidate: Aadhar Card/ Passport/ PAN Card/ Driving License/ Voter's Card/ Bank Passbook with Photograph/ Valid University or College Identity Card/ Employee Identity Card of Government or Public Sector Organization.
Click on the Preview Tab to preview and verify the entire application form before final submission.
Modify details, if required, and FINAL SUBMIT Only after verifying and ensuring that the photograph, signature uploaded and other details filled by you are correct.
Candidates are advised to carefully fill and verify the details filled in the online application themselves as no change will be possible/ entertained after the final submission.
B. GUIDELINES FOR SCANNING &UPLOAD OF PHOTOGRAPH, SIGNATURE & DOCUMENTS PHOTOGRAPH IMAGE:
a. Photograph must be a recent passport size colour picture.
b. The picture should be in colour, against a light-coloured, preferably white, background.
c. Look straight at the camera with a relaxed face.
d. If the picture is taken on a sunny day, have the sun behind you, or place yourself in the shade, so that you are not squinting and there are no harsh shadows.
e. If you have to use flash, ensure there's no "red-eye".
f. If you wear glasses make sure that there are no reflections and your eyes can be clearly seen.
g. Caps, hats and dark glasses are not acceptable. Religious headwear is allowed but it must not cover your face.
h. Ensure that the size of the scanned image is not more than 200KB.
i. If the photo is not uploaded at the place of Photo Candidate him/herself will be responsible for the same.
j. Candidate must ensure that Photo to be uploaded is of required size and the face should be clearly visible.



SIGNATURE IMAGE:


a. The applicant has to sign on white paper with Black Ink pen.
b. The signature must be signed only by the applicant and not by any other person.
c. The Applicant's signature on attendance sheet at the time of the interview should match the uploaded signature. In case of mismatch, the candidate may be disqualified.
d. Ensure that the size of the scanned image is not more than 200KB.
e. Candidates should ensure that the signature image uploaded is clearly visible.


OTHER DOCUMENTS

:
a. Ensure that the size of the scanned image is not more than 1 MB.
b. Candidates should ensure that the document(s) uploaded are clearly visible. Procedure for Uploading the Photograph, Signature& Documents
a. There will be separate links for uploading Photograph, Signature, Date of Birth Certificate, GATE Scorecard, Essential Qualification Degree/ Provisional Certificate & consolidated marksheet, Higher/ Additional qualification Degree/ Provisional Certificate & consolidated marksheet (if any), Category Certificate (if applicable) and Identity Proof.
b. Click on the respective link "Upload ".
c. Browse & Select the location where the Scanned Photo/ Signature/Document file has been saved.
d. Select the file by clicking on it.
e. Click the 'Upload' button
IN CASE ANY OF THE DOCUMENTS UPLOADED INCLUDING PHOTOGRAPH & SIGNATURE IS UNCLEAR, THE APPLICATION MAY BE
REJECTED. CANDIDATE SHOULD ALSO ENSURE THAT PHOTO IS UPLOADED AT THE PLACE OF PHOTO, SIGNATURE AT THE PLACE OF SIGNATURE AND ALL DOCUMENTS AT THEIR RESPECTIVE PLACES AS APPEARING IN APPLICATION. IF PHOTO/ SIGNATURE/ GATE SCORECARD/ EDUCTIONAL CERTIFICATES/ DATE OF BIRTH CERTIFICATE/ IDENTITY PROOF IS NOT UPLOADED PROPERLY, CANDIDATATURE IS LIABLE TO BE CANCELLED.
For Detailed Notification:
Get prepared for all the Electrical Engineering exams with a single enrollment!😎
Specially structured to learn each subject from basic to advanced levels,
HIGHLIGHTS
✅ Recorded videos with Unlimited streaming
✅ 300+ hours of lectures
✅Comprehensive coverage of the latest syllabus, including Overseer Grade-I/KSEB Sub-Engineer
✅A highly trained and dedicated faculty team
✅ 150+ total tests
✅ Interactive quizzes
✅Onboard support and doubt clearance
✅Regular performance analysis and personal mentoring
Admissions Open…
1-year validity
Its your high time to choose the right decision!
For admissions call us at
📲 94 97 41 88 77
📲 94 97 41 88 66
Our Social media platforms are exclusively for Electrical Engineering students, job candidates, teachers and all those who have passion for Electrical Engineering.
You will get
Electrical engineering quiz
Regular job notifications
Exam notifications
E – News
E – Shots
Study tips
Electrical related discussion and all in this group.