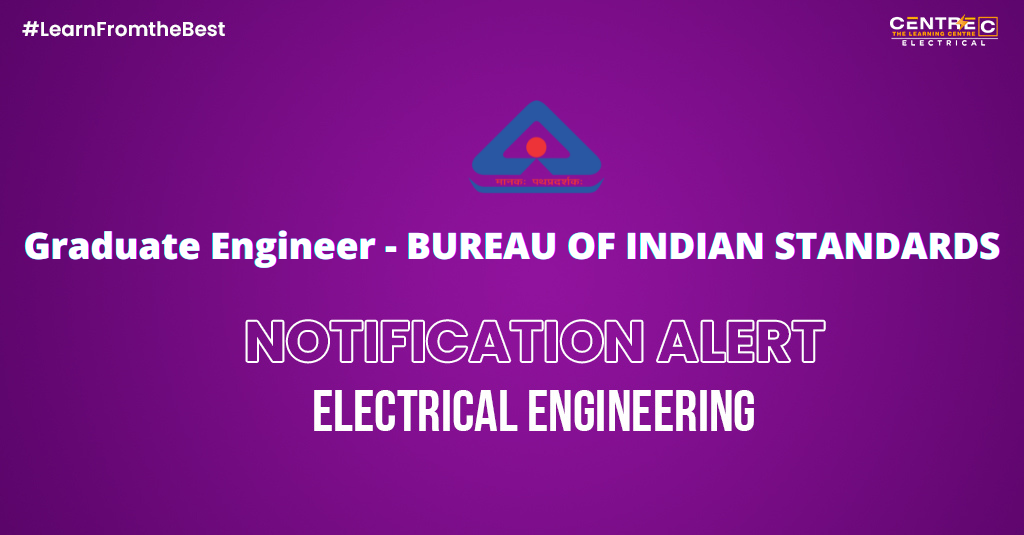 Graduate Engineer – BUREAU OF INDIAN STANDARDS
Graduate Engineer – BUREAU OF INDIAN STANDARDS
CENTRE-C ELECTRICAL
Bureau of Indian Standards (BIS), a statutory body under the administrative control of Ministry of Consumer Affairs, Food and Public Distribution, Govt. of India is the National Standards Body of India and is responsible for activities in the field of Standardization, Product and System Certification, Hallmarking, Laboratory Testing etc., in the country. BIS offers excellent opportunities to Indian nationals with proven academic credentials, professional achievements, good working knowledge of technology based skills, strong communication and interpersonal skills and leadership qualities for engaging with BIS as Graduate Engineers (GEs) on contract basis.
| | | |
| --- | --- | --- |
| Post | Vacancy | Age Limit |
| Graduate Engineer | 25 | 35 years |
Job Location:
Graduate Engineers shall be posted anywhere in India depending upon the requirement.
Educational qualifications:
Essential:
Master's Degree in relevant subject or BE/B. Tech in EEE/FCT/MCM (Details given in Annex-B)
Desirable:
2 Years PG Diploma in Management or Persons with M.Phil, M.Tech. M.S., Ph.D, additional qualifications, research experience, published papers and
post qualification experience in the relevant field would be preferred.
Job description:
Scrutiny of the Inspection Reports (IRs) and Test Reports (TRs) of Factory Inspections.
Inspection of the Test Reports (TRs) of the Market Samples.
Management of the Market Surveillance Cell.
Scrutiny of applications for the Grant of license and examination of the Test Reports (TRs) in respect of Application Samples.
Assisting Certification Officers in conducting (Search & Seizure) S&S operations.
Assisting Heads of BOs in following up the prosecution of offenders.
Any other work assigned by BIS.
Selection Process:
All the applications received shall be scrutinized and shortlisted. Candidates will be shortlisted in the light of their qualifications, experience and other details provided in the application form. Mere fulfillment of qualification or shortlisting shall not confer any right to be engaged as Graduate Engineer. Shortlisted candidates will be called for practical assessment, written assessment, technical knowledge assessment and interview. BIS reserves the right to reject any or all applications without assigning any reason thereof.
Tenure of Engagement:
The engagement is purely on contract basis for a period of Two years.
Nature of Engagement:
The engagement is purely on contract basis and the engagement will be subject to termination at the end of contract period.
Remuneration:
A consolidated monthly remuneration of Rs.50,000/- (Rupees Fifty Thousand only), will be paid to the Graduate Engineers. The remuneration is subject to statutory deductions.
TA/DA:
No TA/DA shall be admissible for joining the assignment or on its completion. If required to travel and stay in connection with the official assignment, TA/DA and lodging allowance as admissible to a regular BIS officer of the Level of Sc-B/Assistant Director, will be paid.
Leave:
Graduate Engineers shall be eligible for Eight (8) days leave in a calendar year. No remuneration for the period of absence in excess of admissible leave will be paid. Also, un-availed leave shall neither be carried forward to next year nor en-cashed.
Working Hours:
The Graduate Engineers shall follow the normal office working hours as prescribed (9.00AM to 5.30PM). However, as per the exigency one has to sit late to complete the time bound work or outstation assignments. Attendance would be made through Bio-metric attendance system.
No Other Assignment:
The engagement is on full-time basis and Graduate Engineer shall not take any other assignment during the period of engagement in BIS.
Travel, Medical Clearance and Service incurred Death, Injury or illness:
In the event of the death, injury or illness of the individual GE which is attributable to the performance of services on behalf of BIS under the terms of the contract, and/or while travelling for official duty or is performing any services under the contract in any offices or premises of BIS or Government of India, the individual GE or the individual GE's dependents, as appropriate shall not be entitled to any compensation or any claim whatsoever.
Medical fitness and Police Verification:
Police verification will be conducted after the engagement of the GEs. The GEs will also submit a medical fitness certificate from a authorized/registered Medical Practitioner, at the time of joining.
Termination of Contract/Engagement:
The engagement of Graduate Engineer can be terminated by BIS at any time without assigning any reasons thereof by giving them 30 days' notice. However, in case the GE wishes to resign, he/she will have to give 30 days' advance notice or remuneration in lieu of thereof, before resigning from the engagement.
Confidentiality of Data and Documents:
(a) The intellectual property rights of the data collected as well as deliverables produced for the BIS shall remain with BIS.
(b) The data shall not be utilized or published or disclosed or to be part with, to a third party, any part of the data or statistical or proceedings or information collected for the purpose of his assignment in BIS.
(c) The Graduate Engineer is bound to hand over the entire set of records of assignment to the BIS before the expiry of contract or before the final payment is released.
(d) The job of Graduate Engineer attracts highest standards of confidentiality and it is expected to be maintained in all the actions of officer, at all levels.
Conflict of Interest:
The Graduate Engineer appointed, shall in no case represent or give opinion or advice to others in any matter which is in conflict to the interest of BIS.
OTHER TERMS AND CONDITIONS AND GENERAL INSTRUCTIONS:
i) Candidates should note that he/she can apply in one Region only through one application. Multiple applications will be liable for rejecting the candidature of the applicant.
ii) Candidates should note that, if at any stage of engagement, it is found that the candidates has submitted any false/fabricated information/documents, his/her candidature will be cancelled immediately and he/she will be liable for action as per applicable Law/Rules.
iii) Candidates should have a valid e-mail ID & Mobile No. which should be entered at appropriate place in the application form and must remain active/valid until recruitment processes are completed. No change in the email ID & mobile number will be accepted once submitted. The candidate himself/herself shall be responsible for incorrect or expired email ID & mobile number.
iv) Candidate should note that their candidature at all stages of engagement is purely on contract basis.
v) Bureau reserves the right to amend/modify vacancies notified and any provision of this advertisement in case of any errors and omissions/deviation/sudden requirements or to cancel the advertisement and engagement if the circumstances so warrant.
vi) Warning: Selection in the Bureau is free, fair and merit based. Any attempt to influence the selection process detected at any stage is liable to termination of the candidature or service and legal action against the concerned individual will be initiated.
vii) Any resulting dispute arising out of this advertisement including the engagement process shall be subject to the sole jurisdiction of the Courts situated at concerned Regional/Branch legal jurisdiction.
Application fees:
No fees is required to be paid by the applicant.
Announcements:
All further announcements/details pertaining to this process will only be published/provided on BIS website www.bis.gov.in from time to time. Candidates are advised to regularly keep in touch with the authorized BIS website www.bis.gov.in for details and updates. In case of any queries please write to
ge.hrd@bis.gov.in
Submission of Application:
Candidates are required to apply On-line through BIS website only i.e. www.bis.gov.in. BIS operations are divided into five regions namely, Western/Southern/Eastern/Northern/Central.
The Branch wise distribution along with the vacancies in each Branch is given at Annex-A. Candidate is required to give three references of Branches in one desired Region where he/she intends to apply. BIS shall make efforts to accommodate the preference, however, the posting shall be done as per the organizational requirement.
Online portal for submission of applications will be made functional from the date of publication of advertisement in Employment News/Rozgar Samachar. The closing date for applying will be 21 days from the date of publication of advertisement in Employment News/Rozgar Samachar. No other means/mode of submission of applications including emails will be accepted under any circumstances.
For Detailed Notification:
Get prepared for all the Electrical Engineering exams with a single enrollment!😎
Specially structured to learn each subject from basic to advanced levels,
HIGHLIGHTS
✅ Recorded videos with Unlimited streaming
✅ 300+ hours of lectures
✅Comprehensive coverage of the latest syllabus, including Overseer Grade-I/KSEB Sub-Engineer
✅A highly trained and dedicated faculty team
✅ 150+ total tests
✅ Interactive quizzes
✅Onboard support and doubt clearance
✅Regular performance analysis and personal mentoring
Admissions Open…
1-year validity
Its your high time to choose the right decision!
For admissions call us at
📲 94 97 41 88 77
📲 94 97 41 88 66
Our Social media platforms are exclusively for Electrical Engineering students, job candidates, teachers and all those who have passion for Electrical Engineering.
You will get
Electrical engineering quiz
Regular job notifications
Exam notifications
E – News
E – Shots
Study tips
Electrical related discussion and all in this group.