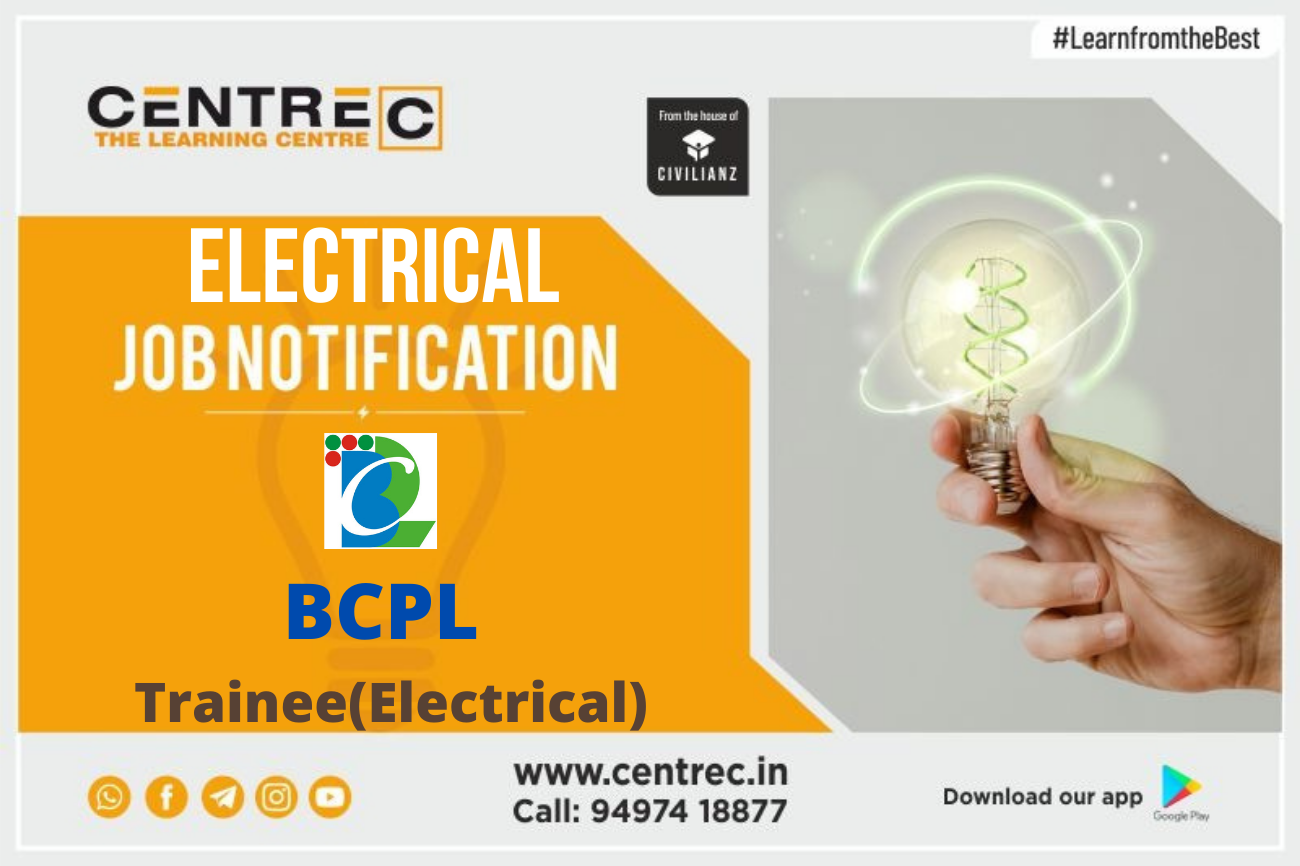 BCPL – Trainee(Electrical)
Brahmaputra Cracker and Polymer Limited (BCPL) has set up a Petrochemical Complex at Lepetkata. BCPL offers exciting career opportunities in Engineering as well as management disciplines. BPCL invites application from eligible candidates for non-executive posts:
Name of Posts
Grade Level
Upper Age Limit
Vacancy
Stipend
Foreman (Electrical) –
Trainee
Grade: S-5
30
03
₹ 23,000/-
Technician (Electrical) –
Trainee
Grade: S-3
30
02
₹ 21,000/-
Essential Qualification and Experience
Name of Posts
Minimum Essential
Educational Qualification
Minimum Essential
Experience
Foreman
(Electrical)- Trainee
Diploma in Engineering in
Electrical / Electrical &Electronics with
minimum 55% marks
To be taken as Trainee for
a minimum period of one
year training with stipend
Technician
(Electrical)- Trainee
Matric plus ITI Tradesman ship/
National Apprenticeship Certificate in
Electrical /Wireman Trade
To be taken as Trainee for
a minimum period of one
year training with stipend
Terms & Conditions in Respect of Essential Qualification and Experience
The cut-off date for determining age limit and post qualification experience (wherever applicable) will be 11.12.2021.
Minimum essential educational qualification required for each post shall be as indicated above against each post.
All full time courses, part time courses and courses acquired through Open and Distance Learning (ODL), as approved by AICTE and UGC under Ministry of HRD, Govt. of India, will be considered as requisite education qualification and this shall include Graduation and Post Graduation as specified under the essential qualifications column.
All qualifications must be from UGC recognized Indian University / UGC recognized Indian Deemed University or AICTE approved Autonomous Indian Institution / concerned statutory council (wherever applicable).Diploma qualifications (for technical disciplines) should be recognized by respective State Board of Technical Education. Industrial Training Institute (ITI) /National Apprenticeship Certificate (NAC) qualification should be recognized by State Council of Technical and Vocational Training (SCTVT) / National Council of Technical and Vocational Training (NCTVT).
In case of Degree/ Diploma in Management qualifications where there is a mention of Dual specialization, one of the specializations necessarily needs to be function specific for which the post has been advertised.
Minimum percentage of marks in the essential qualification as indicated above shall be as per Institute/ University norms/ rules.
Wherever Cumulative Grade Point Average (CGPA) / Overall Grade Point Average (OGPA) or letter grade in a Degree/Diploma is awarded, equivalent percentage of marks should be indicated in the application form as per norms adopted by University/Institutes. Candidate will be required to submit documentary proof/ certificate to this effect from the Institute/ University at the time of further Selection Process, if called for the same.
Minimum Essential Post Qualification Experience (if any)mentioned against each vacancy should be necessarily post qualification. Industrial/ Vocational/ Apprentice Training as part of course will not be considered as experience.
Emoluments
Besides Basic Pay, Variable Dearness Allowance (VDA) at the applicable rates and other allowances and benefits as applicable will be admissible as per company rules in force and amended from time to time.
Application Fee
Note: SC/ST/PwBD candidates are exempted from payment of above fees provided they produce SC/ST/PwBD certificate as applicable, issued by the Competent Authority at the time of further Selection Process, if called for the same
How to Apply
Apply through BCPL website:
Important Dates
Availability of online application form and other
prescribed documents in BCPL website
From 12.11.2021 10:00 AM to 11.12.2021
Last date of receipt of application form
11.12.2021
For detailed advertisement,
Our Social media platforms are exclusively for Electrical Engineering students, job candidates, teachers and all those who have passion for Electrical Engineering.
You will get
Electrical engineering quiz
Regular job notifications
Exam notifications
E – News
E – Shots
Study tips
Electrical related discussion and all in this group.