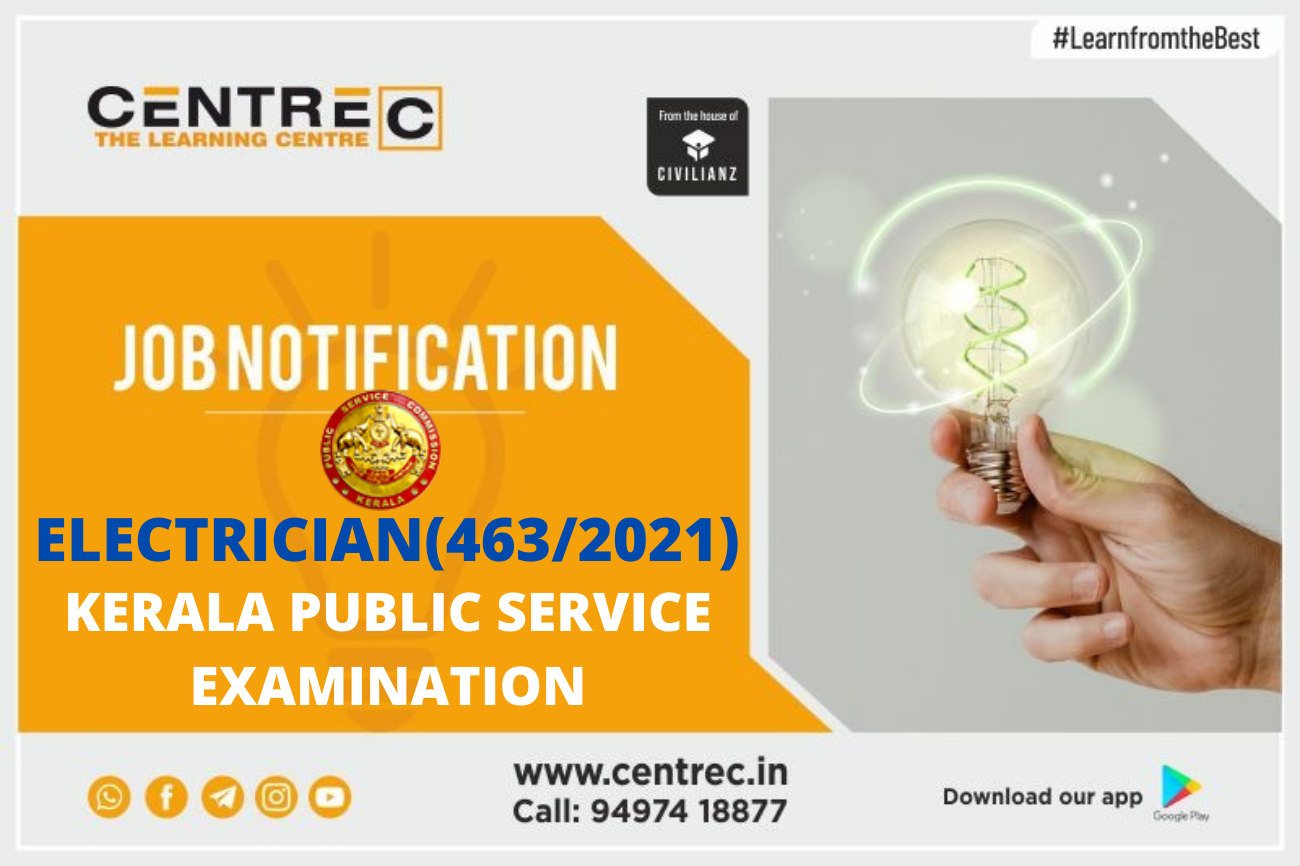 KERALA PSC – ELECTRICIAN (463/2021)
Applications are invited Online only from qualified candidates for appointment in the undermentioned post in Kerala Government Service. Before applying for the post the candidates should register as per the One Time Registration through the official website of Kerala Public Service Commission. Candidates who have already registered can apply through their profile.
| | |
| --- | --- |
| Category No. | 463/2021 |
| Department | Ground Water |
| Name of Post | Electrician |
| Scale of pay | ₹ 26,500 – 60,700/- |
| Method of appointment | Direct Recruitment |
| Age limit | 18-36 |
| Number of vacancies | 01 (One) |
| Gazette Date | 30.10.2021 |
| Last Date of Application | 01.12.2021 |
The above vacancy is now in existence. The Ranked list published by the Commission in response to this notification shall remain in force for a minimum period of one year provided that the said list will continue to be in force till the publication of a new list after the expiry of the minimum period of one year or till the expiry of three years whichever is earlier. Candidates will be advised from the said list against the vacancy noted above and also against the vacancies if any reported to the Commission during the currency of the list.
Qualifications
ITI trade certificate in the trade of Electrician.
Probation
Every person appointed to this post shall, from the date on which he joins duty, be on probation for a total period of two years on duty within a continuous period of three years.
Method of submitting applications
(a) Candidates must register as per 'ONE TIME REGISTRATION' with the Official Website of Kerala Public Service Commission before applying for the post. Candidates who have registered can apply by logging on to their profile using their User-ID and password. Candidates must click on the 'Apply Now' button of the respective posts in the Notification Link to apply for the post. The photograph uploaded should be one taken after 31.12.2011.
(b) If Written/OMR/Online Test is conducted as part of this selection, candidates shall submit a confirmation for writing the examination through their One Time Registration profile. Such candidates alone can generate and download the Admission Tickets in the last 15 days till the date of Test.
(c) Appropriate disciplinary action as per KPSC Rules of Procedure Rule 22 shall be initiated against those candidates who submit applications with bogus claims of qualification regarding education, experience etc. and submit confirmation for writing the examination, irrespective of whether they are present or absent for the examination.
(d) "Candidates who have AADHAR Card should add AADHAR as ID Proof in their profile."
CENTRE C SOCIAL MEDIA PLATFORMS
Our Social media platforms are exclusively for Electrical Engineering students, job candidates, teachers and all those who have passion for Electrical Engineering.
You will get
Electrical engineering quiz
Regular job notifications
Exam notifications
E – News
E – Shots
Study tips
Electrical related discussion and all in this group.