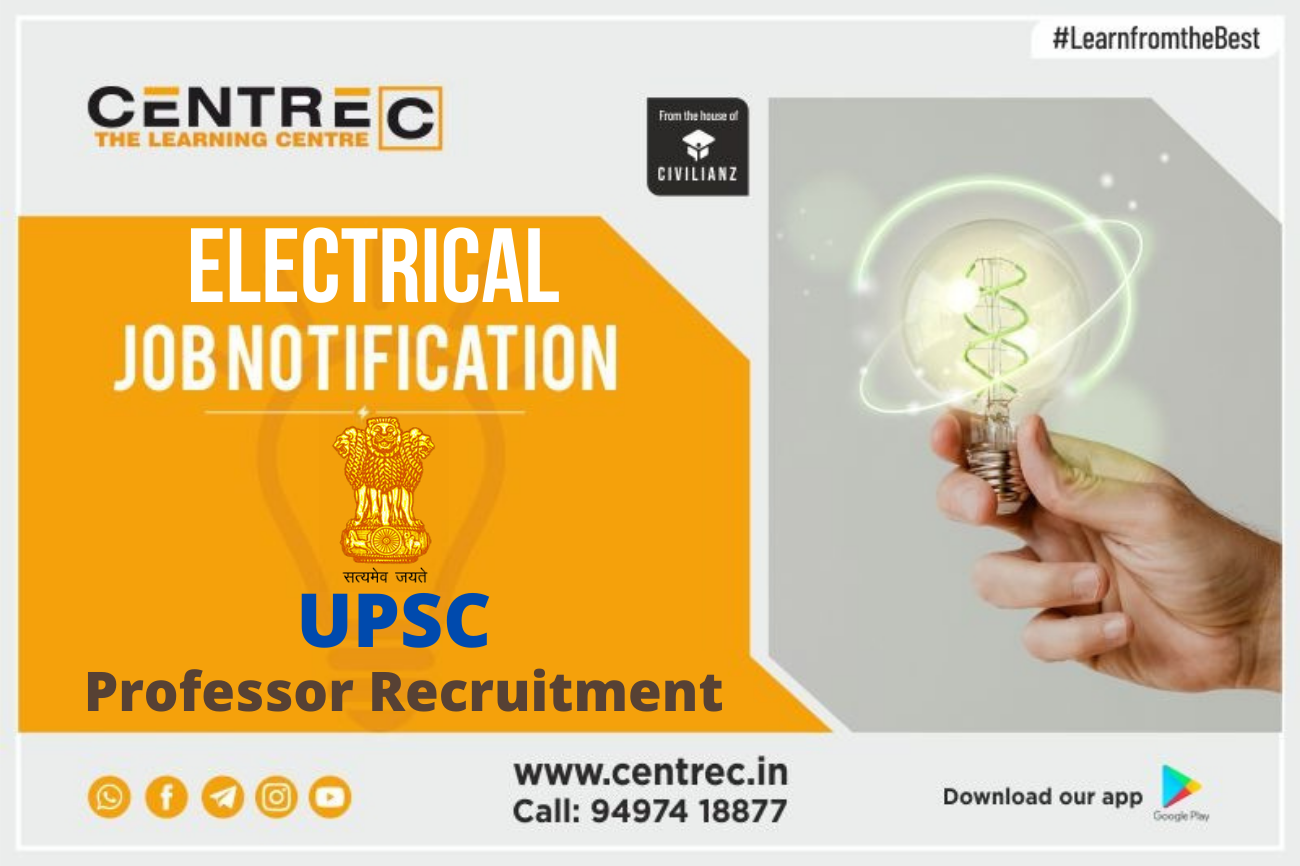 UPSC – Professor Recruitment
ADVERTISEMENT NO.17/2021 UNION PUBLIC SERVICE COMMISSION INVITES ONLINE RECRUITMENT APPLICATIONS (ORA*) FOR RECRUITMENT BY SELECTION TO THE FOLLOWING POSTS
Name of Posts
Department
Vacancy
Professor
(Control System)
Integrated Headquarters, Directorate of Civilian Personnel,
Ministry of Defence
01
Associate Professor
(Electrical Engineering)
Integrated Headquarters, Directorate of Civilian Personnel,
Ministry of Defence
01
QUALIFICATIONS & EXPERIENCE
Name of Posts
Qualification
Experience
Professor
(Control System)
A PhD Degree +
First Class at Bachelor's or
Master's degree in
Control System Engineering/Electrical Engineering
10 years in teaching, research and/or industry, out of
which at least 5 years at the
level of Assistant Professor/Reader
or equivalent grade
Associate Professor
(Electrical Engineering)
A Ph.D Degree +
First class at Bachelor's or
Master's degree in
Electrical Engineering
8 years in teaching, research
and/or industry, at the
level of Lecturer or
equivalent grade
excluding period spent on
obtaining research degree
HOW TO APPLY
Candidates are requested to apply only Online against this advertisement on the Online Recruitment Application (ORA) website
HEADQUARTERS: At places specifically stated against certain posts, otherwise anywhere in India.
PROBATION: The persons selected will be appointed on probation as per rule
INSTRUCTIONS AND ADDITIONAL INFORMATION TO CANDIDATES FOR RECRUITMENT BY SELECTION
CITIZENSHIP:
A Candidate must be either:
(a) a citizen of India, or
(b) a subject of Nepal, or
(c) a subject of Bhutan, or
(d) a Tibetan refugee who came over to India before 1st January, 1962 with the intention of permanently settling in India, or
(e) a person of Indian origin who has migrated from Pakistan, Burma, Sri Lanka or East African countries of Kenya, Uganda, the United Republic of Tanzania(formerly Tanganyika and Zanzibar), Zambia, Malawi, Zaire, Ethiopia and Vietnam with the intention of permanently settling in India. Provided that a candidate belonging to categories (b), (c), (d) and (e) above shall be a person in whose favour a certificate of eligibility has been issued by the Government of India.
AGE LIMITS: The age limit for the post has been given in the advertisement. For certain age concessions admissible to various categories please go through the instruction regarding Concessions & Relaxations.
MINIMUM ESSENTIAL QUALIFICATIONS: All applicants must fulfill the essential requirements of the post and other conditions stipulated in the advertisement. They are advised to satisfy themselves before applying that they possess at least the essential qualifications laid down for various posts. No enquiry asking for advice as to eligibility will be entertained.

APPLICATION FEE:
(a) Candidates are required to pay a fee of Rs. 25/- (Rupees Twenty five) only either by remitting the money in any branch of the SBI by cash or by using net banking facility of the SBI or by using visa/master credit/debit card.
(b) No fee for SC/ST/PwBD/Women candidates of any community. No "fee exemption" is available to Gen/OBC/EWS male candidates and they are required to pay the full prescribed fee.
(c) Applications without the prescribed fee would not be considered and summarily rejected. No representation against such rejection would be entertained.
(d) Fee once paid shall not be refunded under any circumstance nor can the fee be held in reserve for any other examination or selection
IMPORTANT DATES
CLOSING DATE FOR SUBMISSION OF ONLINE RECRUITMENT
APPLICATION (ORA)
23:59 HRS ON 16.12.2021
LAST DATE FOR PRINTING OF COMPLETELY SUBMITTED ONLINE
APPLICATION
23:59 HRS ON 17.12.2021
For detailed Advertisement,
Our Social media platforms are exclusively for Electrical Engineering students, job candidates, teachers and all those who have passion for Electrical Engineering.
You will get
Electrical engineering quiz
Regular job notifications
Exam notifications
E – News
E – Shots
Study tips
Electrical related discussion and all in this group.